Regular blog readers might recall that while in Paris we did a bike tour of Versailles. It was Astrid's first time on a bike (and my return to a bike after a very long hiatus) and we all had a ball. It was a full day tour and Astrid had never been in a bike seat before and it was a bit of a risk taking her out all day but she loved it. You can read all about our Versailles bike adventure here.
For Christmas Astrid's Grandparents thought they would get her a seat to go on Anto's mountain bike so she could go for rides with us. We have only just gotten around to actually getting the seat, however! Better late than never though. Once the seat had arrived and Anto had installed it, we promised Astrid a ride.
First we had to go out and get her a helmet. We ended up with a Dora the Explorer helmet as that was the only one we could adjust small enough to fit her, but after some initial resistance to the concept she decided she loved it and was happy to walk around the house in it all day. Then we decided to do a test ride on the bike up and down the street to make sure the seat was adjusted properly and Astrid was happy in it.
Well, it was a hit. She shouted 'go faster Dad' and tried to push Anto along. After their 5 mins of practice riding Astrid asked for 'more fun please'. I think she likes the bike seat!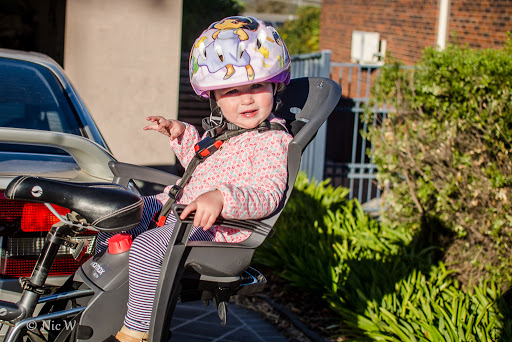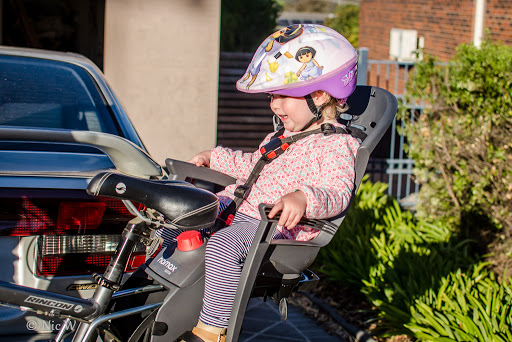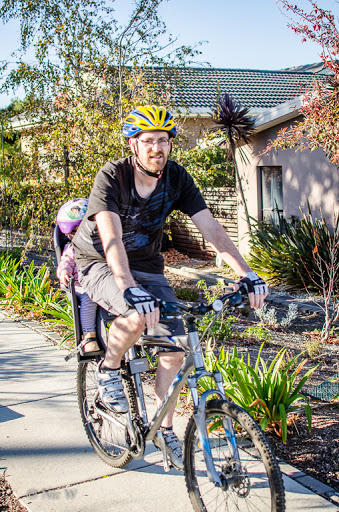 The next day we took our bikes on the car down to the lake and had a little ride around. Riding near our house is a bit fraught with danger for me as we live on the top of a big hill, and unlike other members of the family I don't ride often, and I don't do hills (yet)!
Riding with dad seems to be Astrid's new favourite activity and we've been aiming for one ride a weekend together. Of course coffee and/or breakfast are an important part of any riding experience. I must take the SLR out to get some good photos one morning. I managed to ride and take photos at the same time when in Paris, but I was also under the influence of French wine and cheese. Back in boring old Canberra it hasn't been quite the same experience!