So Nic and Anto now have full blown colds. It was another rainy day in Paris (although not that cold) so we didn't feel up to doing much. We decided to hang around our apartment and get some planning done for our other trips, and wander up and down the street getting food, cheese, wine etc for our meals. Shopping Paris style is much easier than at home. We did go to a cafe for lunch where Astrid had her first taste of Steak Tartare. She seemed to be a fan. She liked the dessert of creme brulee, chocolate fondant and tiramisu more though.
Since there are no photos from today, I thought I'd do post about our apartment. We are located on Rue Petit Carreaux, which joins Rue Motorgeuil and is very well located in the 2nd Arrondissment. We are really happy with our apartment location. The street has lots of cafes and restaurants and a heap of fromageries and boulangerie/patisseries. There are also several pharmacies, supermarkets, butchers, fruit shops and even a fish monger. We haven't come close to trying all the different shops yet. We are also within an easy walk on shopping districts and most of the major sights. If we aren't up for walking there are several metro stations within a few hundred metres.
The apartment is on the second floor, with no lift. The two flights of stairs aren't a problem, except when carrying small children, groceries and strollers up and down. Much better than some of the 5th floor apartments we were originally looking at. The stairs are old, worn wood and in a spiral configuration. They aren't for the faint hearted and are tricky to negotiate when tired or carrying a lot of stuff (or a child).
The view out our window:
Our apartment is a reasonable size. Still tiny compared to our house, but much more comfy than a hotel room would be. The kitchen is full sized and adequate for cooking. There are a reasonable supply of pots, pans and basic equipment. There are about 10 times the number of wine glasses as any other type of drinking receptacle, very French! There is also a dishwasher which is handy. The laundry is in the kitchen and has a separate washer and dryer which has been getting a work out since we create a lot of washing and there is no outside space.
The lounge/dining is open plan and a decent size. The couches are comfy for tv watching and there is a good sized flat screen tv, which is good for when the munchkin goes to bed. The only downside with the living area is the white couches. The covers are washable but a small child and white don't mix!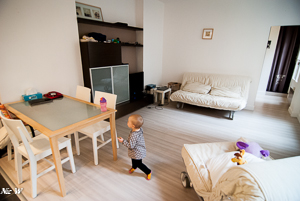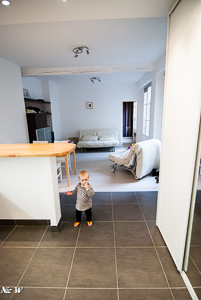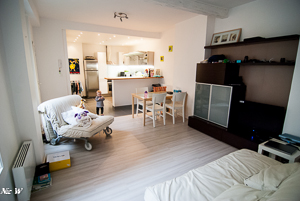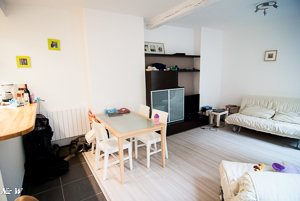 The bedroom is fairly small. Our double bed has just enough room either side for the port a cot and the wardrobe. It's not too bad though. The wardrobe space is good, heaps in the bedroom, plus more storage in the entertainment unit and kitchen. The bathroom is tiny and a bit of a squish with more than 1 person, but it's functional.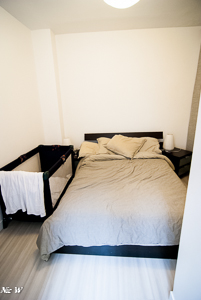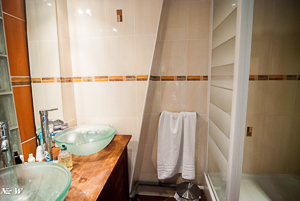 The apartment has stayed really warm with no heating and we actually open the windows to let fresh air in as it can get too hot. The French windows open right up which is lovely but there isn't much stopping a small child from climbing out them. Even though Astrid is a bit too short to get out we are paranoid and don't open them when she is around.
All in all we are happy with our apartment pick and we are quite comfortable here.