We noted that our Interlaken hotel has a sign that says guests must be SILENT after 10pm. Very Swiss of them to tell us that. They also tell you to get the hell off their trains when they get to the terminus station. They like to tell you what to do. Despite the sign, people are not silent in our hotel. Nor are the trains and buses, except a few hours during the middle of the night. Astrid some how slept through it all, probably because she was exhausted.
We headed off to breakfast, where we consumed carbs in many forms and then packed our bags again and headed for the train station. Interlaken had been nice, although we didn't see much of it other than on a train. The town is quite big and spread out and we didn't get a chance to walk through much of it, other than when finding food. The river that runs through the middle is quite pretty but we did get a great view of the train station and the mountain from our hotel room.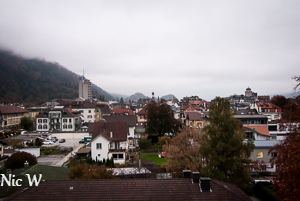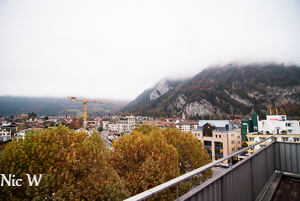 Having figured out there train system the previous day we made it with plenty of time. We were supposed to be on the Golden Pass Line again through to Luzern but due to track work we were put on a mix of normal trains with a bus connection through the middle. It is a bit annoying when you book expensive seats (admittedly cheaply through a Eurail pass) and then get put in with the common herd. The first train was fine and we got to see some pretty nice scenery through to Meringen. It was again very foggy but we saw lots of farms, rivers, cows, chocolate box chalets and even some deer and rabbits. Again there were lots of towns built around lakes, sandwiched between massive mountains.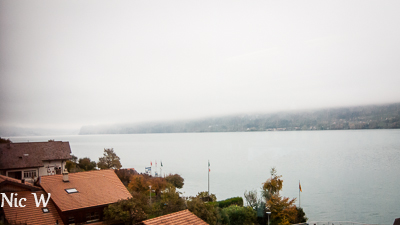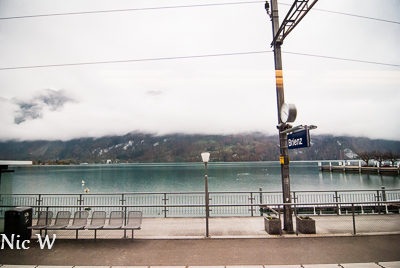 Astrid was endlessly amused by the herd of Asian tourists in our cabin. She had to pose for a million photos again and they all played peek-a-boo with her. We should start charging for photos, we could pay for our trip! Astrid doing what she does, eating biscuits on the train: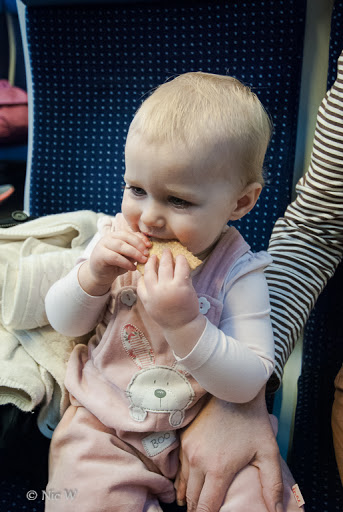 Once we got kicked off the train and had to hop on the bus, the fun ended. They buses weren't quite big enough for everyone and their luggage so it was very squishy. The buses also stopped to pick up more people along the way.
We did get to see some of the scenery off the railway line and up through the hills which was nice. However, there weren't many photo ops and Astrid was getting annoyed being squished on our laps surrounded by bags. She eventually fell asleep, which was lucky as this section of the trip through to Sarnen took about an hour and we only went 20kms due to how winding the roads were.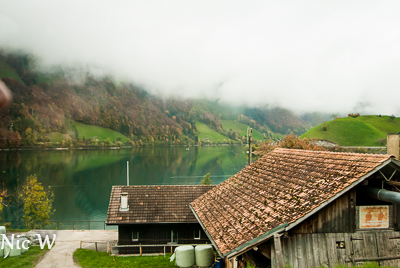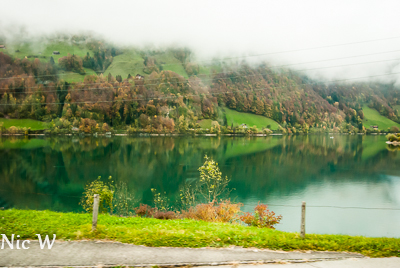 Assuming she would wake up when we transferred to the next train, we were somewhat shocked when we got her all the way onto the next train and transferred between parents twice without waking. She slept all the way to Luzern, which was only half an hour longer. This section of the trip there wasn't much to see. I'm not sure that we would have seen much more if we were on the train we were supposed to be on, but compared to the previous couple of days it was a little underwhelming, although the bits of scenery we did see were lovely (but more of the same).
In Luzern, it was back to a decent sized city, and the railway station was pretty big. We stored our luggage and realised it was actually cold! We hadn't been particularly cold in Switzerland at all, aside from when we were at 3500m on Jungfrau, and even then it wasn't too bad considering the location. Luzern railway station was freezing and we dug out all the hats, scarves and gloves. Of course we had finally given up bothering to put our wool layers on only to be tricked today!
We left the train station on the hunt for lunch and weren't all that impressed with Luzern to start with. It seemed like another city, nothing special. Lots of standard stores we had seen everywhere, fairly 80s-90s buildings. Lots of chain places for food. We finally walked down to the river and discovered that all the good stuff was down down. The old town was full of gorgeous buildings, cute bridges, swans, lots of lovely cafes etc.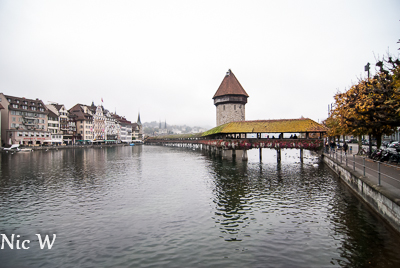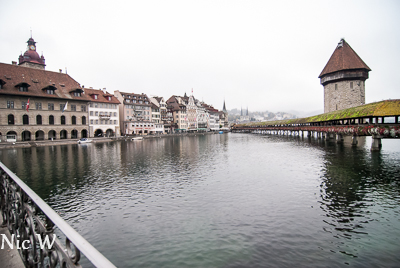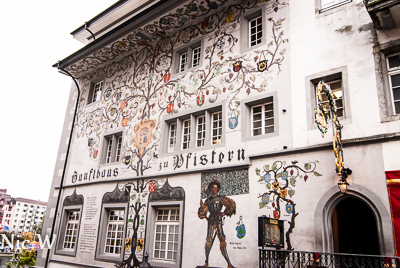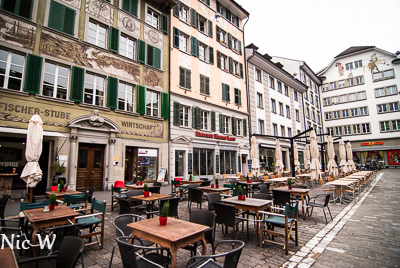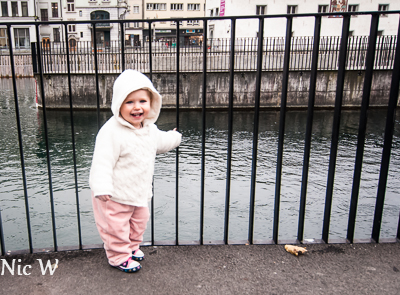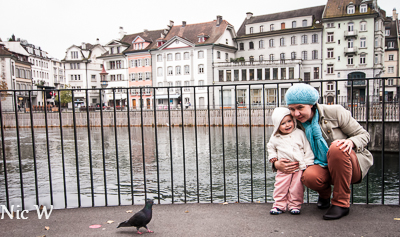 We were keen for some fondue but kept mostly finding Italian places. We then stumbled into the German/Swiss area of cafes and found a great place that did heaps of interesting food. The menu was about 10 pages and there were daily and seasonal specials on top of that. Despite all the choice we went for a Cheese and wild mushroom fondue and Anto also had a mushroom, bacon and crouton salad.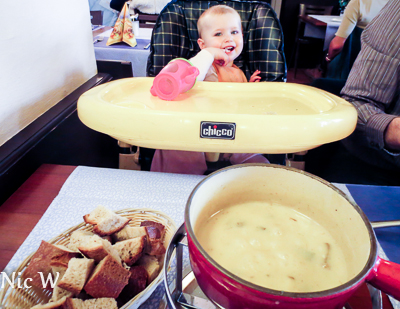 In all Swiss restaurants they seem to give you free bread with every meal. As much bread as you could eat in a week. Astrid loves this as she hoes into it while waiting for the actual food. They then bring more bread with the meals. Of course they charge the earth for all drinks (including water) but the bread is free. Astrid loved the fondue. Her favourite thing to do this week is 'dip' her bread in things so this was perfect.
She ate a bucket load more bread and cheese and some bacon from Anto's plate. The meals were great and the waitresses wanted to take Astrid home. They bought her biscuits and then gave us a stash to put on our bags. Given she is currently eating biscuits by the truckload while on trains it wasn't ideal but she loved it. Too bad if you don't like people giving things to your kids. People are constantly giving her chocolates and bikkies without asking. She thinks it's a winner.
After lunch we wandered around the old town and were impressed by many chocolate and watch shops as well as lots of lovely cafes and buildings with interesting art painted on them. We also loved the cute bridges and misty old houses hiding up on the hills. We visited some more swans and walked through a few shops and decided it was really very cold and went and got some coffee and cake at one of the many places we found. Apparently black forrest cake is also a winner when you are Astrid.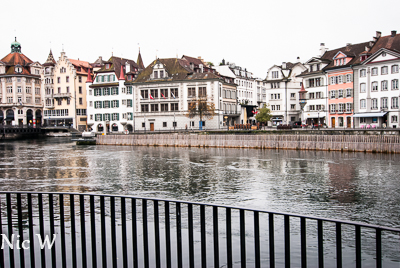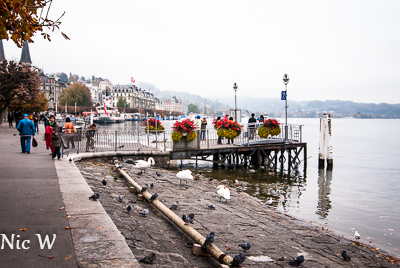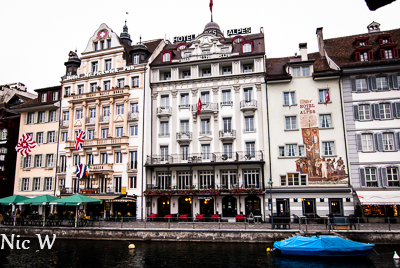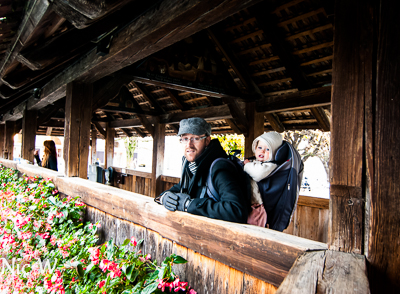 We had a bit more of a wander and took some photos and it was starting to get colder and darker so we headed to the train station, collected our luggage and jumped on a train to Zurich. This trip was a bit under an hour, which was good with an increasingly tired baby. We made it into Zurich a bit after 5pm and discovered Luzern railway station had nothing on Zurich. We arrived on platform 53 and there were more platforms. It took us over a km of walking to get out of the railway station. We then discovered our hotel was 100m from the station, but not that one, central station which was connected by trams but not in a way that would cut more than a couple of hundred metres off the trip.
Zurich was also cold but by the time we had trudged with our bags for about a km to the hotel we were warm again. The hotel is another winner. It's a cute building(s) up a hill and the rooms are modern and funky and it's almost as big as our Paris apartment (which we now consider big). It also has luxuries like a bathroom you can move in and WiFi! Astrid's cot is also not pushed up against our bed, and the bed is a whole bed, without wood in the middle and it has proper pillows…. oh the luxury!!
We headed out to grab some dinner and found a good German Brasserie nearby. Yummy salad for those of us craving something other than cheese and Bratwurst and Rosti with gravy for the meat eaters. Astrid devoured everything and got lots of attention as usual. The food was great and we would happily go back as they had a lot of interesting things on the menu. Zurich at night looked really interesting and vibrant but we needed to get Astrid to bed so not much time for exploring. We are already wishing we had longer here, but we will see what tomorrow brings.