Astrid was a bit restless overnight and woke up with fairly gunky eyes. We had forgotten about it being a National holiday, so no hope of a doctor's appointment but the saline seemed to be helping so we continued to flush her eyes. She was in an OK mood so we thought we'd have a quiet day. The downside to living in a very small apartment is that she gets bored very quickly so we thought we would rug her up and walk down to the shops for a short outing.
It was meant to be heavy rain so we were surprised it wasn't raining when we headed out. Astrid fell asleep in the stroller on the walk down to the shops. We found an entire store for Parisian pampered pusses and pooches with some very awesome things in it! Since our cats wouldn't appreciate being put in a carrier, a puffy coat or using a cat bed we just bought them funky new collars and glow in the dark toys.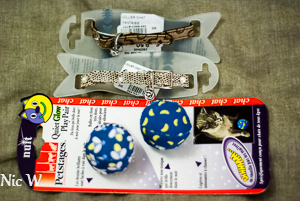 With a still sleeping baby we headed to the women's section of a department store and found a coat on sale that I liked and fitted so I grabbed it. Can never have too many coats, and it's wool and very warm! I also got some funky coloured/patterned stockings. I didn't get the really out there ones. I don't think Canberra is ready for that!