We had decided that this years party theme was a 'bug and insect garden party'. Unfortunately, since someone chose to be born on the Winter equinox the garden wasn't a particularly nice place to be but we had a nice indoor party and lots of bug and insect themed food.
I typically had too many ideas for food and decorations and was running around a bit like a headless chook in the week leading up to the party, having only just gotten back from overseas and trying to catch up on washing, cooking and cleaning. I had premade and frozen some of the food before we left but there was a lot that couldn't be done until the last minute.
Luckily it all worked out beautifully and Astrid loved all her bug and insect food and decorations. She had been most excited about her 'lady bug cake' and had been telling everyone about it for weeks. It was chocolate mud, covered in fondant, with sugar sticks for the antennae (bought back from the nice French restaurant her parents went to in Fiji the other week).
I think Mr Ladybug looked very fetching, don't you? He tasted pretty good at any rate. Anto did an excellent job with the fondant, although now I've had a few tips from some friends I think we can improve for next time.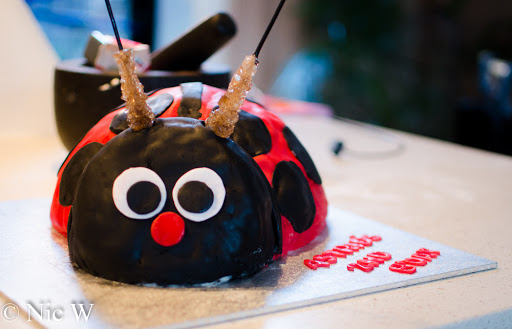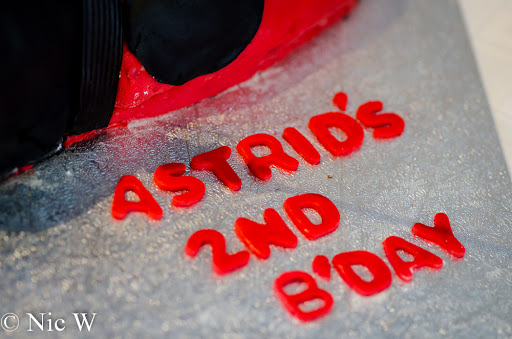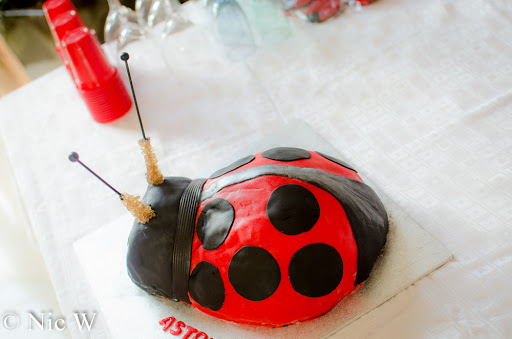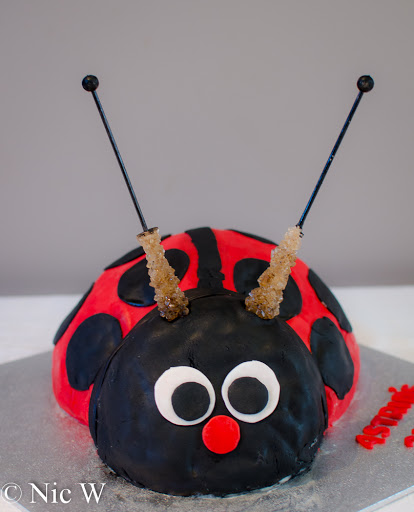 To match in with the ladybug cake we decorated with red, black and white. Astrid loves balloons (like all toddlers, seemingly) so we had plenty of balloons, along with red, black and white plates and napkins. Here is the dining room all set up and the cake and drinks table ready to go. We had white and red lolly bags for all the kids – with wind up bugs, bug lollies and chocolates for the bigger kids and bibs, socks and bubbles for the babies. The adults all got a hand-made cookie in the shape of a bee or bug. I didn't make these, they were custom ordered from the very talented Kerry at Crumbs of Yum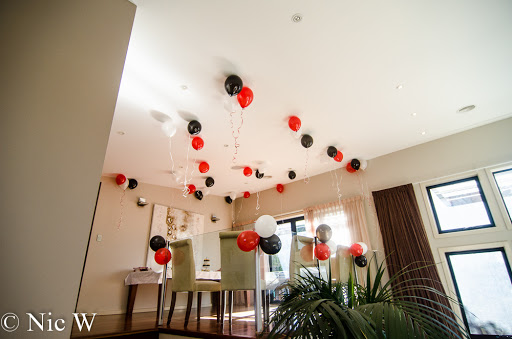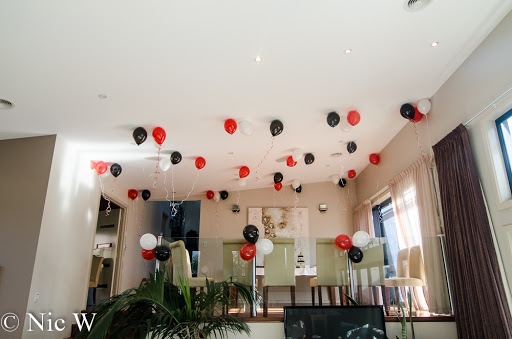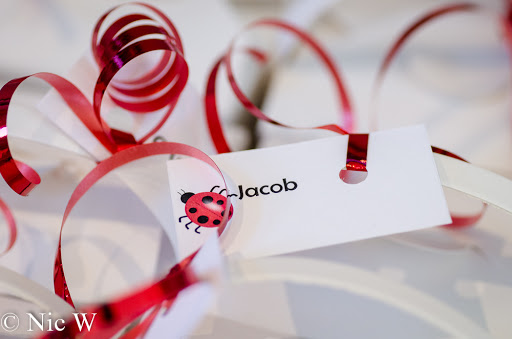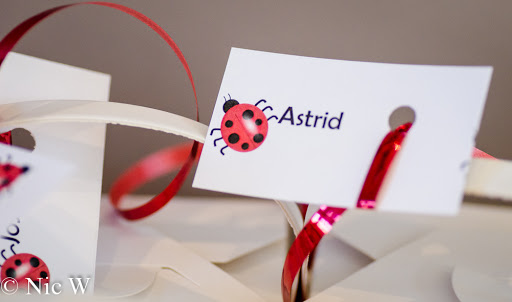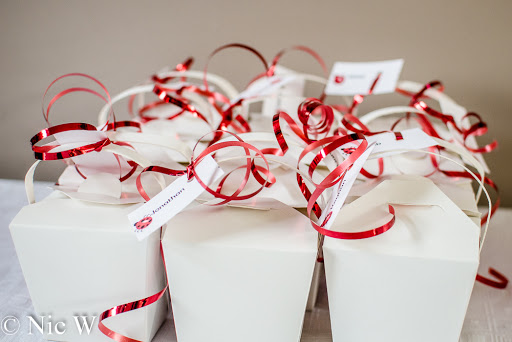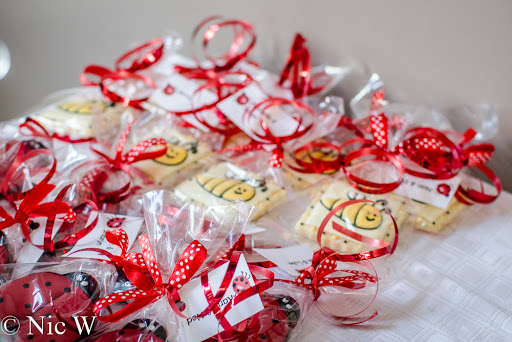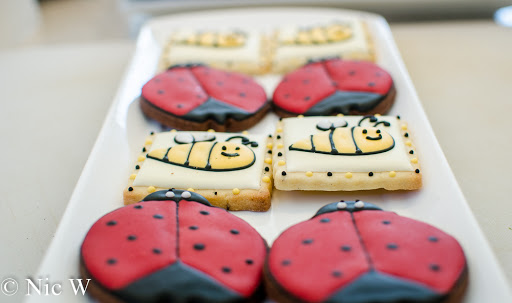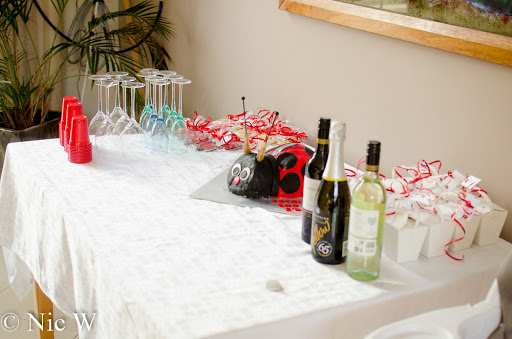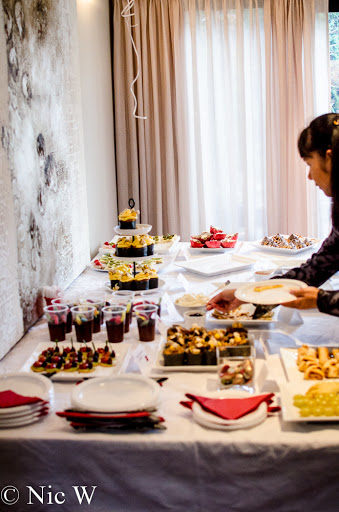 For the sweet food we had:
Honey Bee Cupcakes
Honeycomb Chocolate Crackles with butterfly toppers
Honey Joys with honeycomb and bees
Marshmallow Spiders
Lady Bug and Bee Cookies
Worms in Dirt (Choc Mousse with Oreos)
Caterpillar and Dragonfly Pikelets (with Jam and Cream)
Caterpillar Fairy Bread
Bug chocolates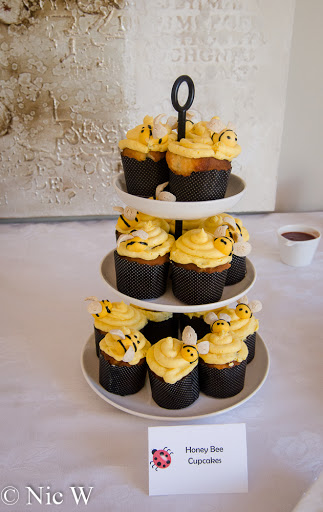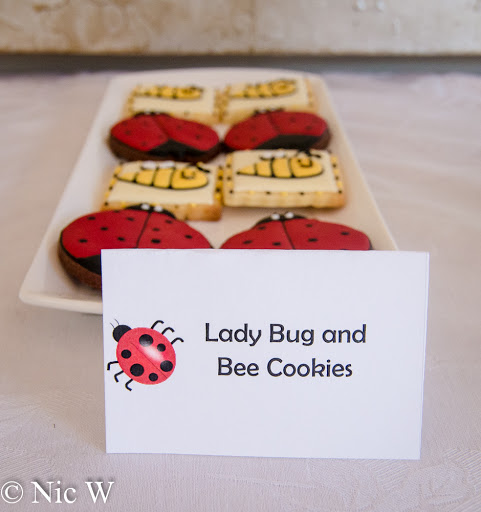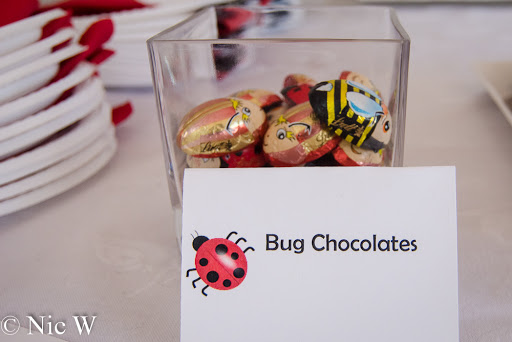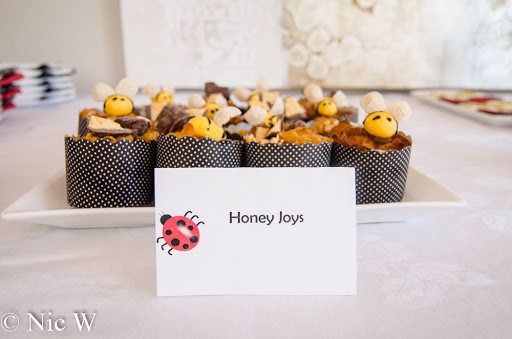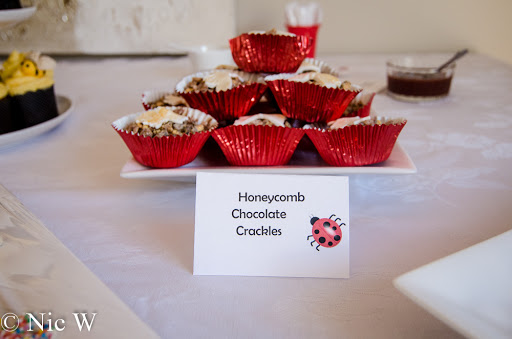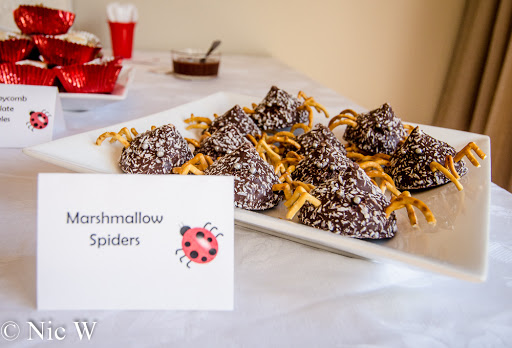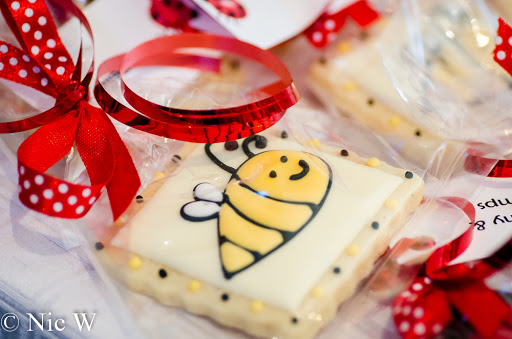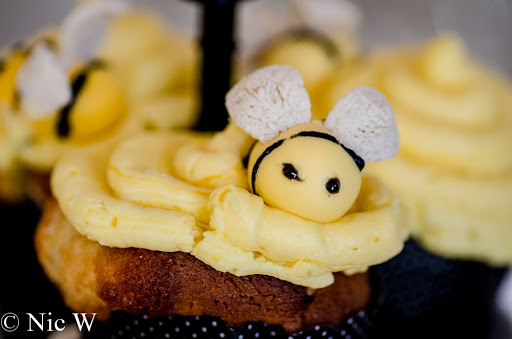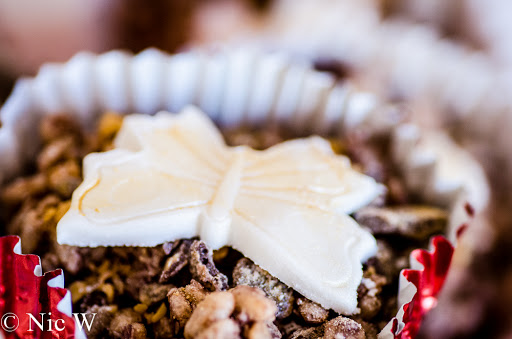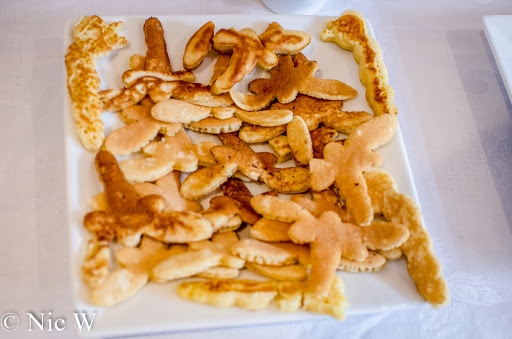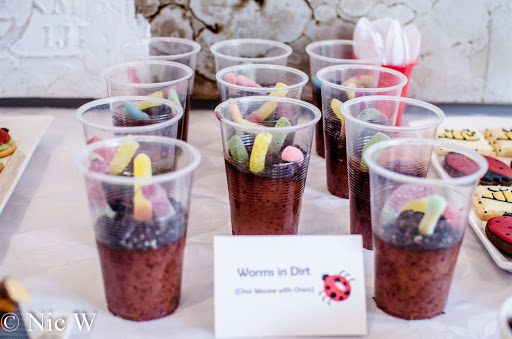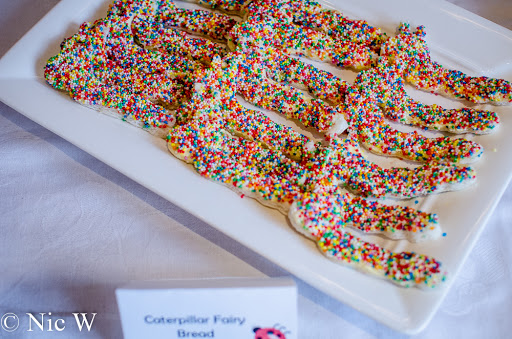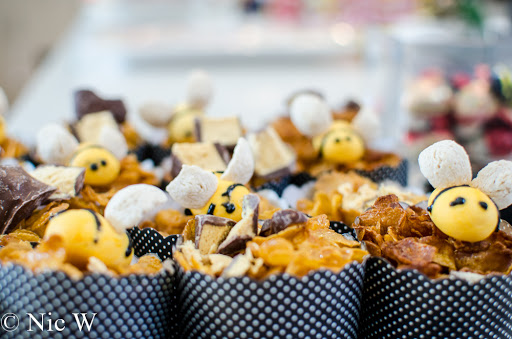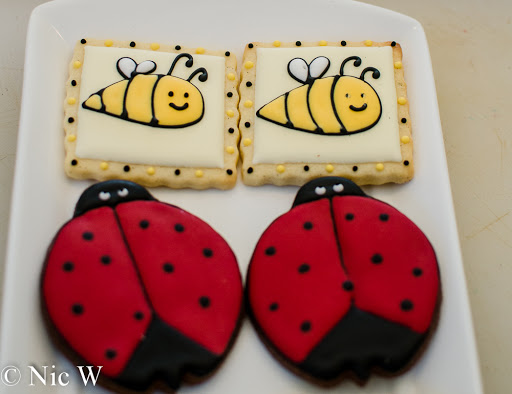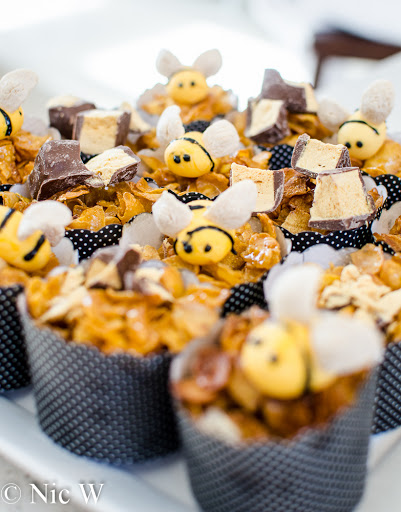 Just though there was something to dilute all the sugar, we did have plenty of savoury food too! For the non sugar addicts we had:
Ham and Cheese Pizza Snails
Meatball Caterpillars
Sausage Roll Caterpillars
Spinach and Ricotta Triangle Butterflies
Grape Caterpillars
Olive and Tomato Ladybug crackers
Butterfly Sandwiches (Cheese, Sweet Gherkin and Snow Pea Sprouts; Ham and Cherry Tomato)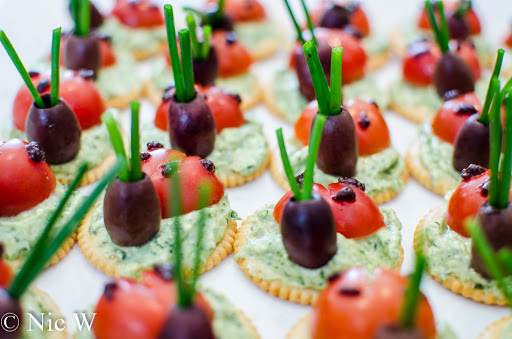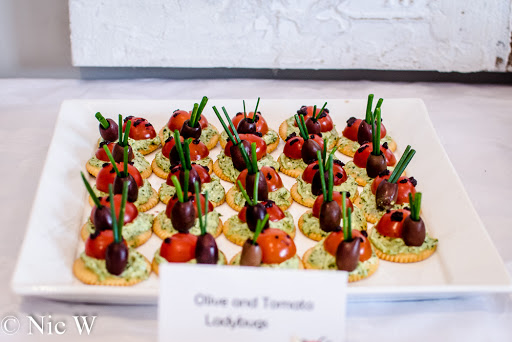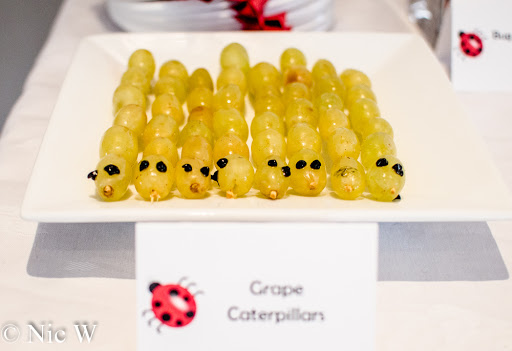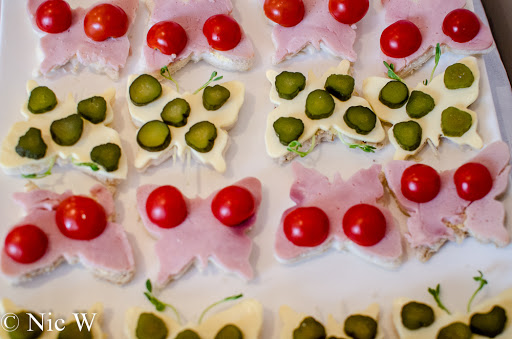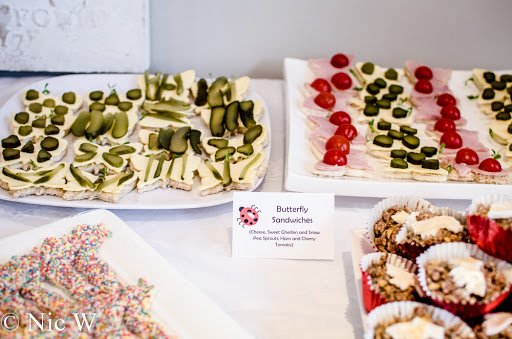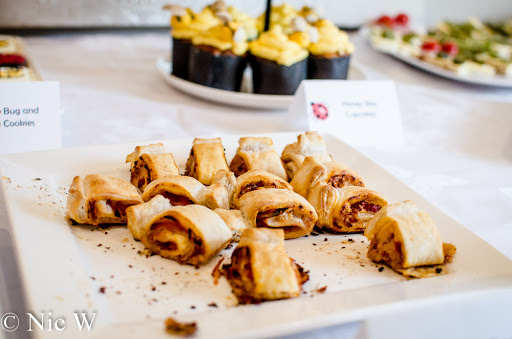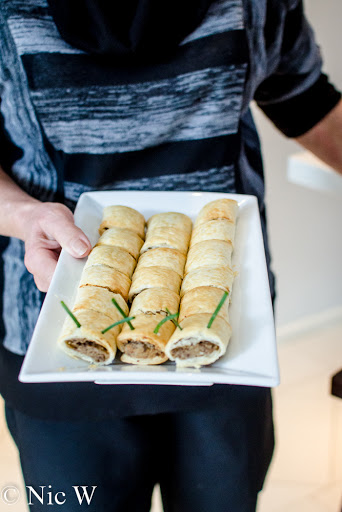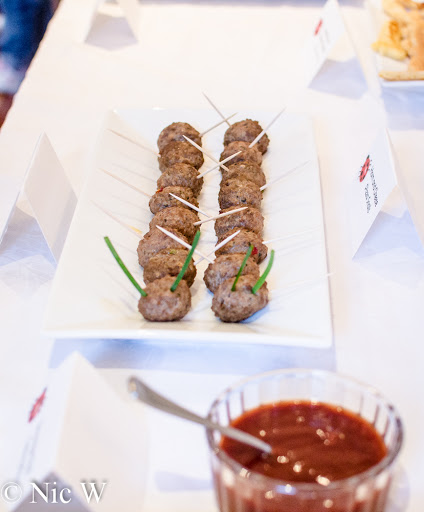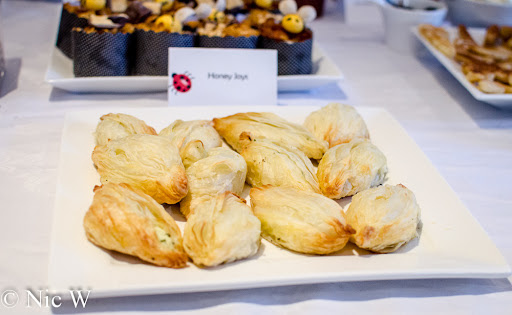 So, as you can see, no one went hungry! The food didn't actually take too long to make. We made bits and pieces of it most nights the week before the party (like the fondant bees, the spiders, the butterfly toppers and the pikelets). We decorated the cake the night before (which I had made and frozen before we went away) and we just did a lot that morning.
Astrid helped Grandma make the honey joys and chocolate crackles during her visits that week and I just decorated them. Grandma (aka Lorraine) made the grape caterpillars and the very trendy sandwiches. My very patient husband arranged the hot food into butterfly and caterpillar shapes as we served it (I'm sure he now just rolls his eyes at me when I make these silly requests)! I must say though that making a heap of dragonfly and caterpillar fairly bread and pikelets was very time consuming and annoying and next year I've vowed to have a square or circle theme! I also went through about 6 different ideas to get the marshmallow spiders to work but got there in the end, even if I did have to cut up 80 pretzels!
Stay tuned for party 2 and everyone enjoying the food and celebrations.