We won't talk about how old young Anto turned this birthday, but Astrid told him he wasn't old, so that is all that matters!
For days Astrid had been talking about how she was going to wake Dad up for presents and drink her milk in the bed while he opened them. Sure enough she was wide awake early and chattering about presents! Anto got to open an array of presents with Astrid help. Despite having helped me wrap them all up just a couple of days earlier she was excited to see what each present contained. She was also very proud of the handmade card she had made for Daddy, complete with hand prints.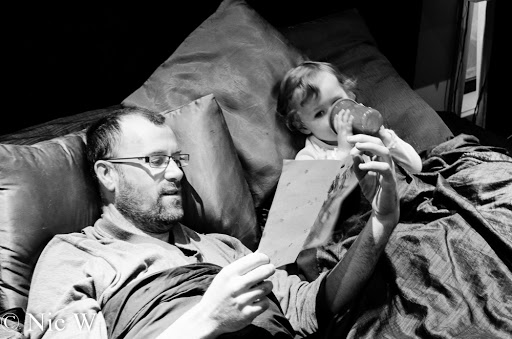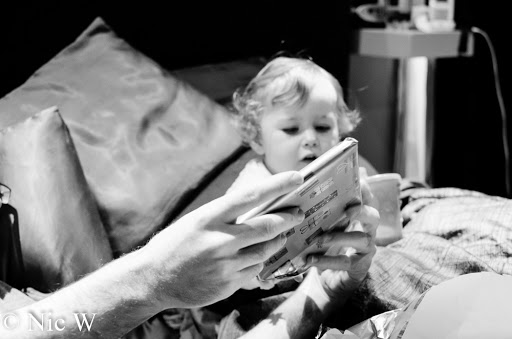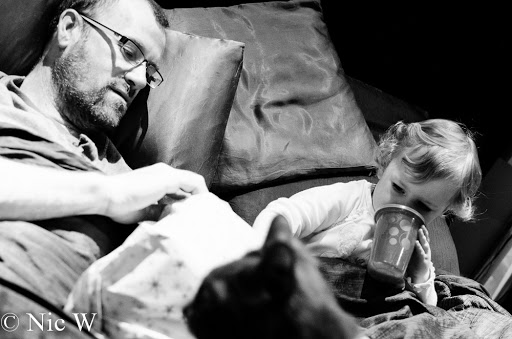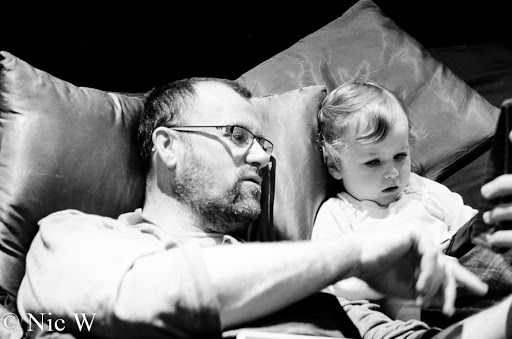 Since Anto's parents were flying out to the UK mid-morning we had to head for an early breakfast to celebrate the occasion. This meant being out the door at 7.30ish but luckily Astrid was raring to go. I asked her to go and pick a 'pretty outfit' for dad's birthday. Here is what she chose: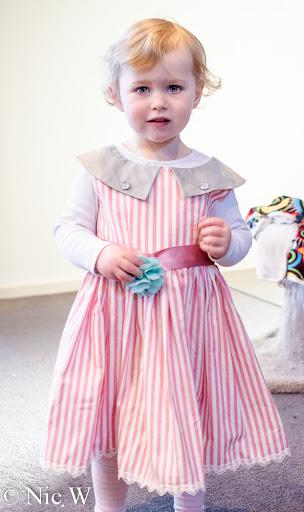 I was saving this dress for some events later in the year, but at least I know she likes it!
The cafe we had planned to go to (which we have been to before many a time) wasn't opening til 9am, which would have been a little rushed with getting the intrepid travellers to the airport on time so we looked for somewhere new and interesting. Clearly I'm not on the ball with the hipster breakfast scene since after about 2 minutes of googling during the week I found a host of cafes with great reviews that I hadn't heard of. We chose the Elk & Pea. It turns out it was indeed very hipster, and very busy! We got there right on opening and the place was quickly full. We had a booking though and an excellent table. The decor was amazing, the wait staff very hip but friendly, the food very, very good and the coffee excellent! We will definitely be going back! I didn't take photos of my food since I was busy catching Miss very grown up drinking her babycino and eating her own poached eggs and bacon…….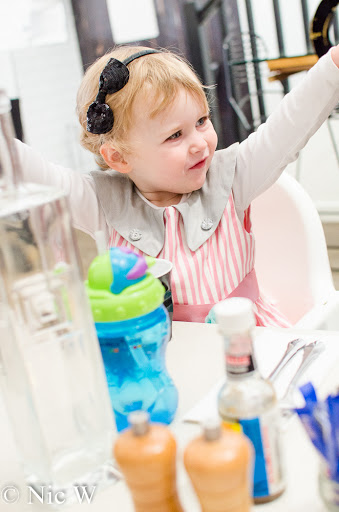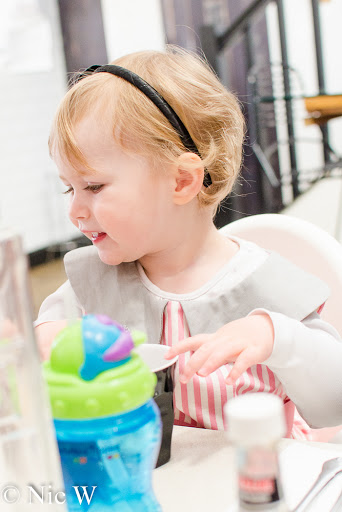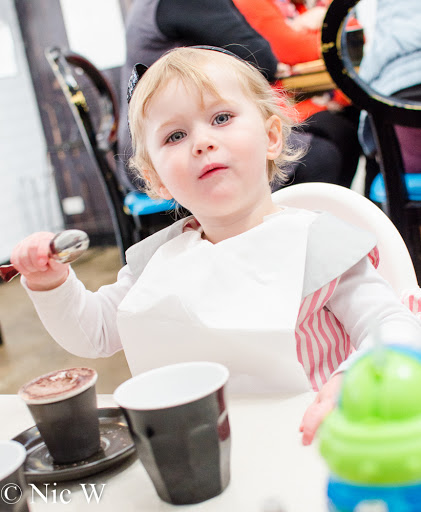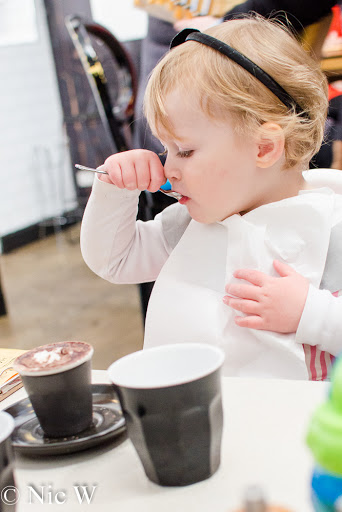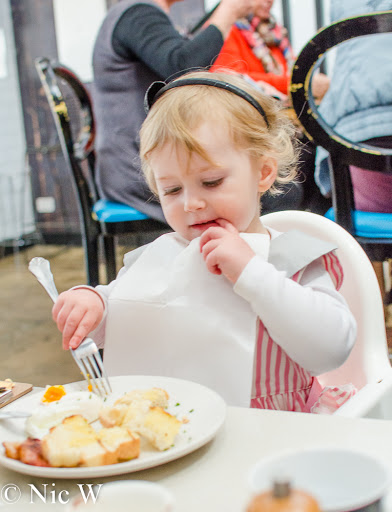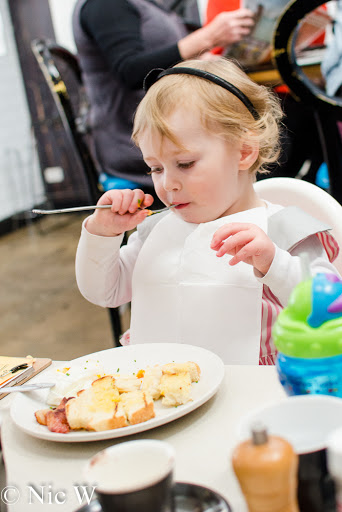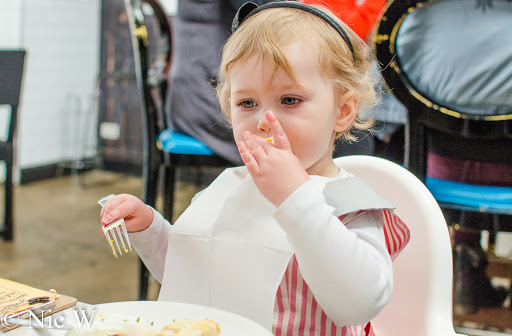 When did she get so grown up that we have to order her own 'proper' meals? As you can see she ate and drank well. Anyway, back to my meal. I had the Quinoa, Feta and Zuchini hash browns with roasted tomato and a poached egg. It was cooked to perfection and delcious. Anto and Trevor had the Huevos Rancheros, Michael the Grande breakfast and Lorraine the scrambled eggs on toast. All the meals were lovely….. two coffees later we figured it was time to escape to make the most of the day and get the travellers on their way.
After a last play at home with her grandparents Astrid gave them their goodbye cuddles. She was excited they were going on a plane and 'to England' but several days later she is still asking when they are coming over to visit, so I'm not sure she entirely gets that they will be gone for a long time!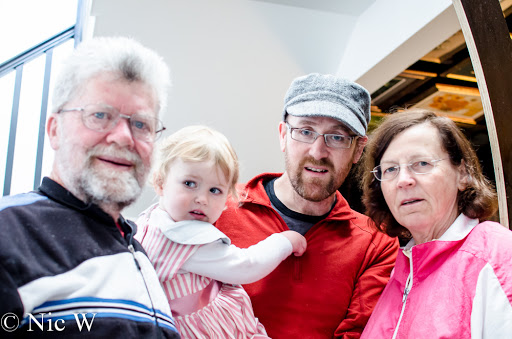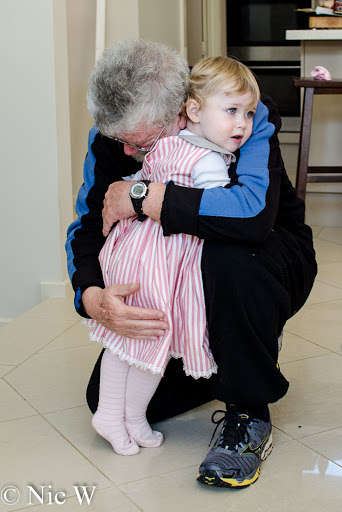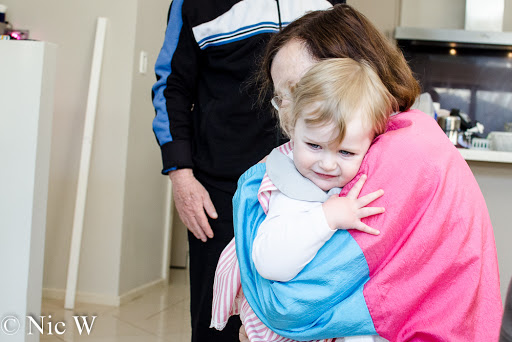 The rest of the day was spent enjoying the sunshine and getting jobs done around the house. Once Astrid had awoken from her afternoon nap she helped with the birthday cake making (which involved chocolate and a lot of mess). I have a separate post on the cake disaster coming up……
After suitably covering herself in chocolate (and consuming quite a bit) we managed to get her bathed and handed over to Uncle Mikl, who was in charge for the evening while we acted like civilized adults and went out to dinner and a movie.
Escaping the house all to efficiently we headed back into the city for dinner. We had hoped to go somewhere nice but there isn't much open on a Sunday night that interested us so we opted for some quick and easy Mexican. Anto's was apparently quite acceptable, mine was lack lustre and both of us finished our dinner in about 20 minutes so we headed out for coffee and cake. Even Koko Black was closed early on a Sunday so we settled for good old cafe Essen and shared some pear and sticky date cake and coffees. Unusually Essen were also very efficient and despite wasting as much time as possible it was still 45 minutes before our movie!
We wandered around for a bit but nothing was open and it was very quickly getting cold so we then attempted to have a drink at the very deserted cinemas (well Anto did, I just read the cocktail list with envy) but apparently Sunday night is not the night to go out as most of the drink ingredients were not available so he scored a free glass of red in lieu of the interesting cocktail and we settled in with the other 4 patrons to see Now You See Me which was surprisingly entertaining.
Of course the concept of a relaxing dinner and late movie is good, but in hindsight we are too old for that kind of caper and it was midnight before we were home and ready for bed! Next year I think we will try for something earlier……