After a night of almost getting some sleep (Astrid was up for only an hour and a half during the night and slept til 6.30am) we decided we would go out for a bit of sight seeing. Unfortunately it was rather drizzly and cold, and a lot of rain was forecast so we decided to head to the shops.
When in Paris, you might as well go for a walk to Galeries Lafayette. Let's just say this store is impressive.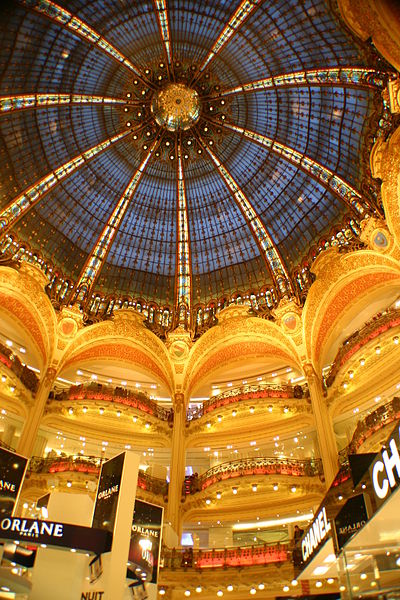 When we got there it was fairly quiet so we started wandering around. They had a sale on and some of the prices were fairly reasonable. We really should have bought some things but by the time we had checked out all the floors it had gotten really busy and Miss A was getting a bit grumpy. We placated her with her daily coffee and croissant in one of the many cafes. She is a huge fan of pain au chocolat, what could be better than croissant? Why, croissant with chocolate of course!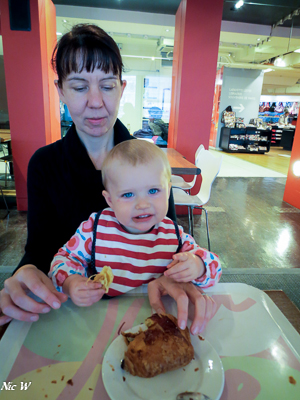 We wandered upstairs to the terrace and took in the very impressive views across Paris. These photos don't do it justice. We were kicking ourselves for not bringing the good camera.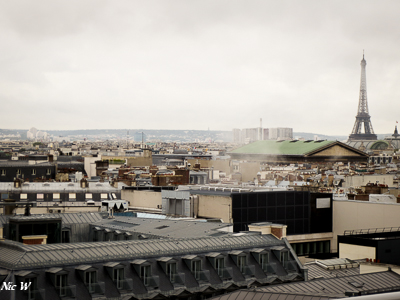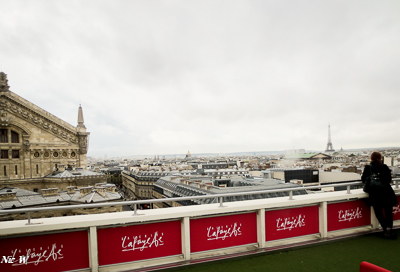 We then found the food and produce section of Galeries Lafayette. OMG, we could eat for a year! It was about this time that Astrid decided to remove one of her shoes. Convinced we were never to see it again and were about to have to go buy her a new pair, a security guard tracked us down with shoe in hand. That's service for you!
We abandoned hope of getting any meaningful shopping done. We figured it best to walk away while the credit card balance was in tact, but we will go back. Too many cute clothes not to!
After another lunch of baguette and cheese, this time we purchased the baguette from the boulangerie directly opposite our apartment, we had a bit of a rest. The afternoon was still very wet so we decided to purchase some food for dinner and have a wander around our street. Anto is quite enjoying the fact that we can walk outside our front door to one of the many fruit and vegie shops, cheese shops and bakeries. It makes hunting and gathering less of a chore. Our only issue is that there is too much choice!
So far we had dutifully resisted the call of the delightful French baked products, located within metres of our doorstep. We figured this should be rectified immediately. Raspberries are in season here and the raspberry tarts just look delicious. We took this little beauty home for dessert.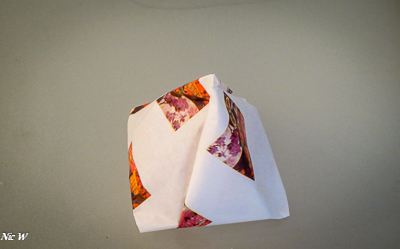 The French love to present everything well. It came wrapped into a little pyramid, so cute! It tasted even better than it looked. Yummy shortcrust, biscuity pastry, juicy raspberries and tasty pastry cream. We might have to have that one again. That and the other 50 million beautiful things they sell there!