We were planning on going up the Eiffel Tower today but decided to pre-book to save time and the earliest we could get was next week.
So instead we decided to go shopping in the BHV sale in the morning and do a cruise of the Seine in the afternoon. Astrid was not keen on shopping, and we picked up a few things for her before giving up and heading to one of the regular near-by cafes for morning tea. Today it was a croissant and apple flan. Both were hits.
We managed to squeeze a bit more time out of her at the shops once she was fed but I didn't find anything I wanted. Anto is going back another time sans baby to see if he can do any better. We also finally found some needle and thread to fix all the things that have broken and need mending since we've been here.
In the afternoon we walked down to Pont Neuf to hop aboard a river cruise. They leave every half hour and we manged to just miss one, in our usual style. We had taken the stroller, forgetting about all the stairs coming off the bridge so had a fun trip carrying it down the stairs with an Astrid loaded inside (and back up again at the other end).
While it would have been nice to have done one of the lovely dinner cruises down the Seine, we didn't think it was particularly baby appropriate so we decided to stick with the cheap and cheerful daytime version, complete with plastic seats and fake flowers. We really just wanted to get a different view of the river, and other Paris landmarks, so the cheap version suited fine. Despite it being quite chilly we decided to sit out the back in the open air, in order to get better photos. We were all rugged up but Astrid was not a fan of keeping her hat or mittens on so got a bit cold.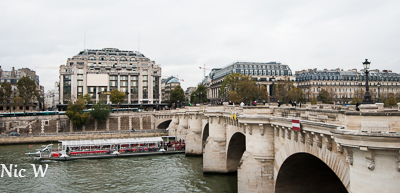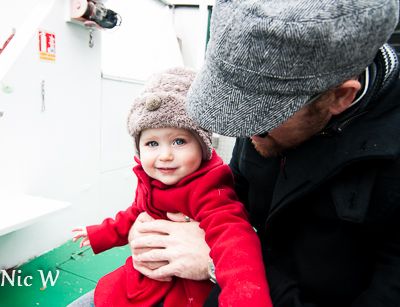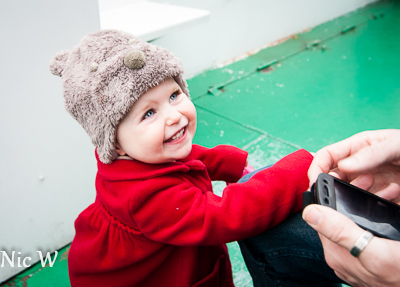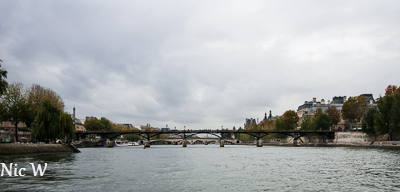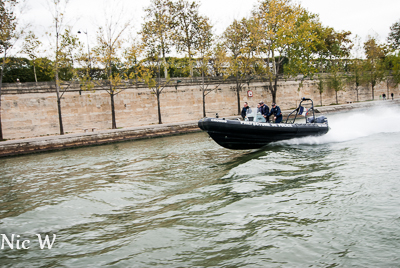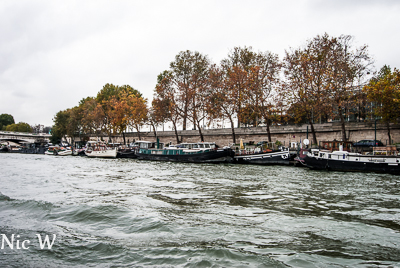 The cruise was relatively interesting. You could see how different each of the bridges are as you pass under them. Each is quite unique and some are very understated and other very OTT. We also spied lots of very expensive looking apartments along the river edge. The view we got of the Eiffel tower from the river was fairly impressive too. The police boat racing up and down the river was also very entertaining. I think they were mostly showing off.
Astrid had been fairly well behaved and enjoying the cruise. At one point though she was about to have a melt-down about something and we were saved by a lovely lady sitting next to us who started chatting to her and let her wear her sunglasses. Crisis averted!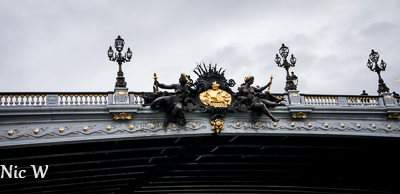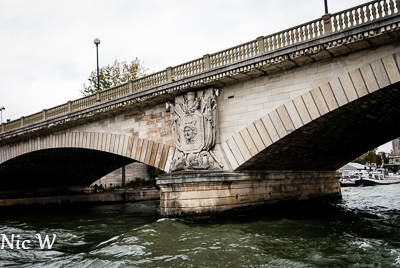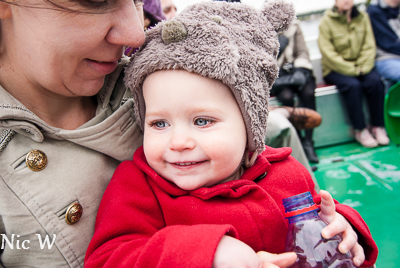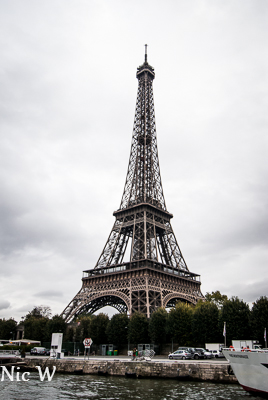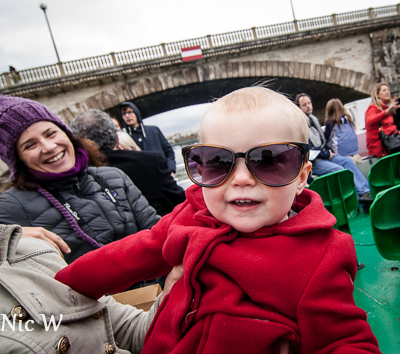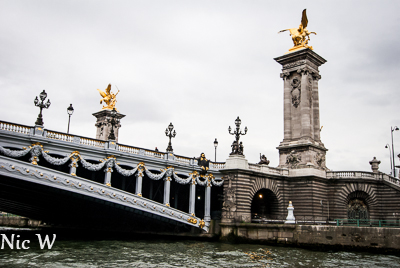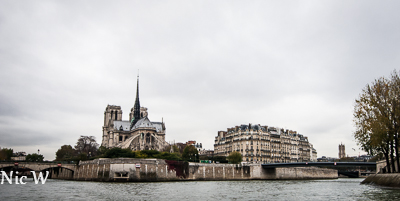 Towards the end of the cruise it got a bit cold so I headed indoors with Astrid, where incidentally you could actually hear the commentary, and Anto stayed outside for some more photos. We enjoyed the hour, but it was certainly long enough so we headed back to our apartment for some dinner.
For tonight's dinner we decided to try the quiche from one of the boulangeries in our street. It was damn fine pastry on the quiche and went well with some salad. We had to finish it off with some Gateaux Opera. We have been eyeing this one off for quite awhile and despite not being the least bit hungry it was delicious, possibly the best dessert yet. Not something we would have a hope of replicating so we might have to have some more before we leave!