*Post by Anto*
Due to the stupidity of Body clocks we both woke up around 6am local time – presuming it must be the middle of the night until we checked….. How unfair that we were wide awake while Astrid slept. As much as we tried to sneak around quietly Astrid eventually noticed and woke up as well. We got ourselves dressed and headed down for the breakfast – with Astrid walking most of the way like a real grown-up. We all noticed the excellent range of food for breaky – including Japanese  Korean  'continental' and of course the 'full English  – both the choice and quality was excellent, with delicious hot food, waffles, an array of amazing pastries and breads and even yoghurt that was so good it didn't make Anto vomit.  It was interesting to be back in an English speaking country, even if the Sofitel staff seem to default to French (perhaps we have gotten so good at blending in that we look like we are from Paris…). After we all feasted on a wonderful breaky (while Astrid impressed the wait staff with her voracious appetite) and read some local papers we figured it was time to get on with our day.
We both wondered if it would be such a bad thing if we spent our time in London hiding out at a Heathrow Airport hotel in the lap of luxury but alas we only have two days so we probably should make some use of them. We once again re-packed the bags – and re-repacked as Astrid unpacked, before a final check, and dumping a bag or two at the concierge desk. A quick walk and we were back at T5 arrivals to book tickets on the express into the city, at which point we learnt there was a 15-20 minute delay on the express line, meaning that by the time we changed tubes it would be quicker (and far cheaper) to just go on the tube 'direct' (with quite a few station stops). A plan that seemed to work moderately well.
The forecast rain fell while we were heading in on the tube, and after a nice tour of outer London suburbs and twenty odd minutes in tunnels and a tube change we arrived at our station – Paddington, which if Anto did his job should be able 200 odd meters from our hotel. Although the rain had stopped it had only just done so, from the evidence of much water lying around. I guess if you come to London you should assume you are going to get rained on at some point. A reasonably quick stroll later had us at our hotel, made easier by only having taken a 'little' bag (of course with the other two bags, a backpack and a camera bag – which go everywhere with us). Now when we arrived at the fairly funky looking reception some delightful chap pretty much pushed in front of us as we negotiated Astrid's stroller up the two (fairly large) steps. Given we were not in a rush we let it go… In hindsight possibly a mistake – Apparently the gentleman in question had booked a room from the night before so that he could have it as soon as he arrived in the morning from a long flight (probably not the weirdest thing in the world), but when he didn't appear overnight the hotel failed to notice the note on the booking and cancelled the whole thing. One of the things that happen when you travel and something that you would have thought could be fixed fairly easily (as they still had rooms available). However, apparently this was something that required the only person working at the reception counter to work on for 20 odd minutes – while other staff stood around watching what was going on. After an hour of the tube it wasn't exactly what we were hoping for. Eventually they managed to get around to checking us in, and as a bonus our room was ready, although apparently it didn't have our 'amenities' in it yet (given we were checking in around 11am this wasn't unreasonable), but it was promised this would appear soon.
When we got to the room a fruit platter was waiting for us – with a selection of drinks, including a quite drinkable wine. What wasn't there was the cot – which we presumed were 'the amenities'. We tried to hide our look of surprise when someone knocked on the door with….. another fruit platter and a selection of drinks – we know what we will be having for morning tea and lunch now. When asked about the cot it was promised that it would be delivered shortly. Which it was but without any sheets and with a plastic mattress that looked questionably clean. Astrid was starting to look tired so we decided to give her a nap while we looked up maps and plotted out a course for the afternoon. Given the size of the room, (hmm a shoebox would have been a better description) it was a drastic letdown after the wonderful Sofitel the night before. There was very little room to move around once the cot was installed and our (very little) bag was placed somewhere.
After an hours 'refresher nap' we ended up waking up Astrid – always a scary thing to do… Before heading out back to the tube station, via a bakery to pick up couple of sandwiches so that we had a 'decent' lunch. The tube, while more confusing than the French metro (which each line pretty much only has a single route) was fairly efficient & before we knew it we had popped up down at Tower Hill to visit the Tower of London – a still used set of fortifications and castle(s) dead in the middle of the city. Our admission included a guided tour by a Yeoman guard (know as the Beefeaters for no documented reason) who was both knowledgeable and passionate about the subject – most of which revolved around the fairly awful way the tower complex had been used to imprison  torture and execute (in once again fairly awful manners) and hold people who were latter dragged up towards Tower Hill for the same treatment.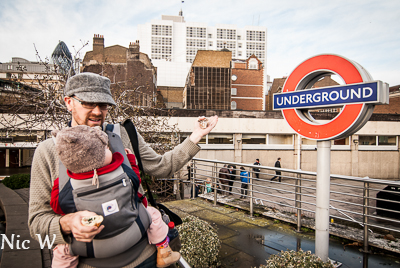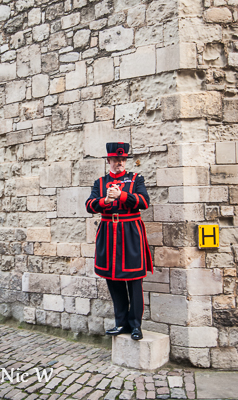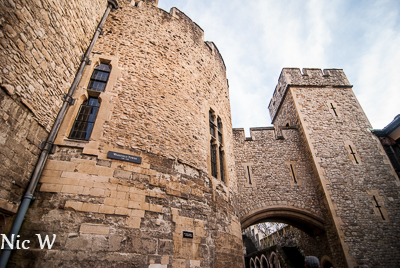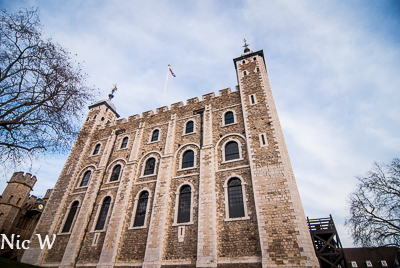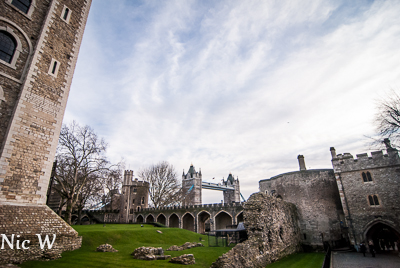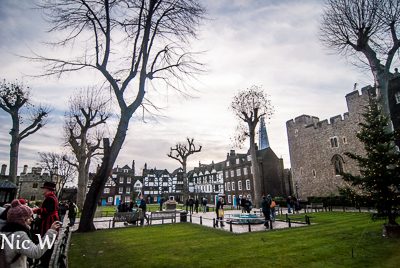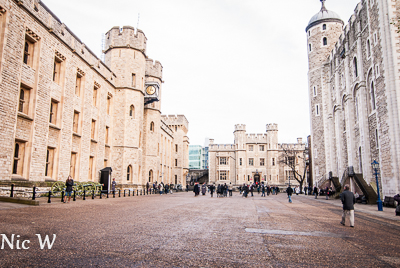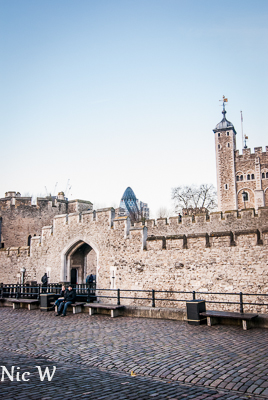 The weather had turned decidedly cold & an hour long tour with Astrid mostly outside was pushing our luck – but we made it, our guide commented at the end 'kids hey' and when we apologised for Astrid trying to out scream him, to which we were told 'I can shout over much louder than that'. Post tour we had a look at the collection of crown jewels – which are housed in a fairly impressive building where you seem to literally walk into a huge safe – there is much shiny and sparkly stuff including scepters, maces and of course the crowns. We had a general wander around the Tower – including a quite good look at the raven master (apparently they keep 8 'tame' ravens and have 5 people to look after them – which sounds like a pretty cushy job).
Next we moved onto taking photos of the nearby Tower Bridge, which is when Nic started her impromptu career as a 'can you take our picture please' volunteer, and we almost managed to get away with stealing a lens cap for our troubles, a crafty plan that was ruined when we realised that a) someone would miss it, b) we we absolutely no use for it and c) there is probably a fairly limited market in 'hot' lens caps in London. As the weather had started to get to Astrid (and Anto – who has previously decided that as the weather was so mild he didn't need his scarf, gloves or coat), so we wandered back to the tube station to make our way down to Westminister.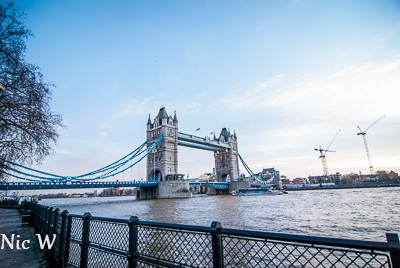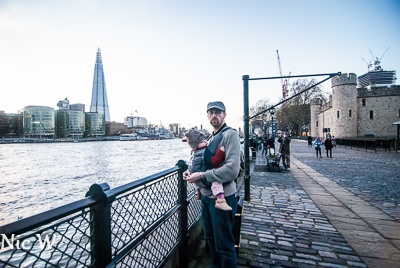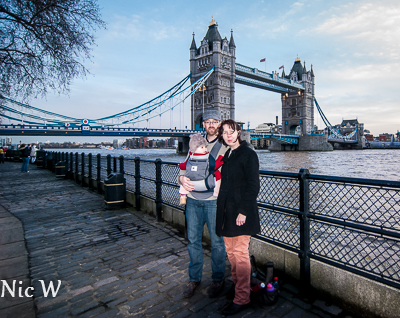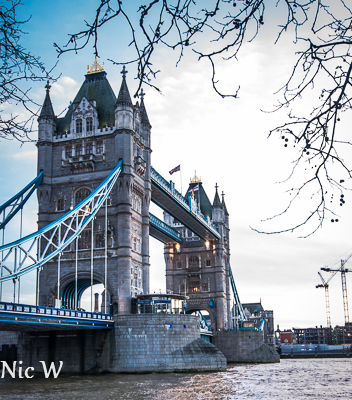 As we emerged from the tube station we (and about a thousand other tourists) had a gander at Big Ben, the London eye and the houses of Parliament, All of which looked pretty good from Westminster Pier.  We had arrived just before sun-set and the various attractions lit up against the gradually darkening sky were quite photogenic. Nic was 'propositioned' about 8 times while walking over the bridge and back – obviously the news of her excellent photographic skills was spreading, either that or we looked least like the kind of people who would run away with your camera.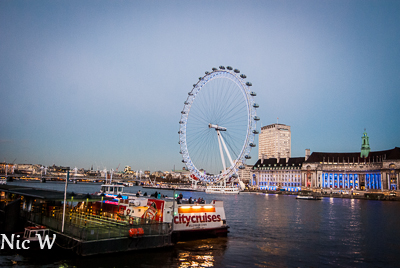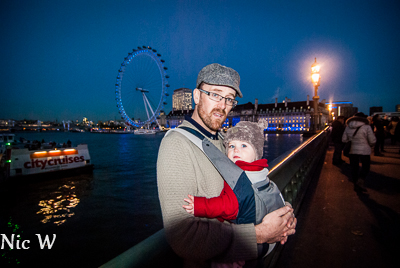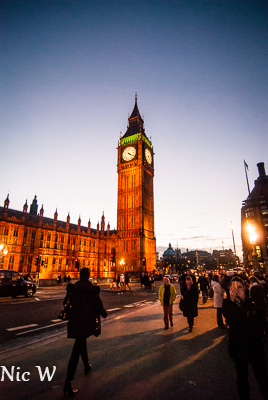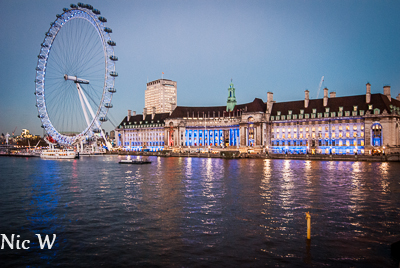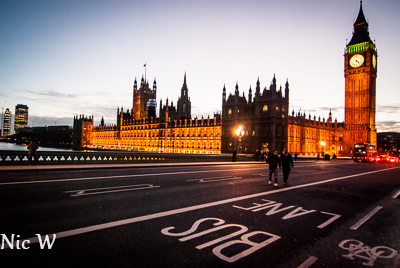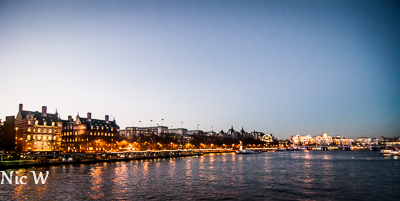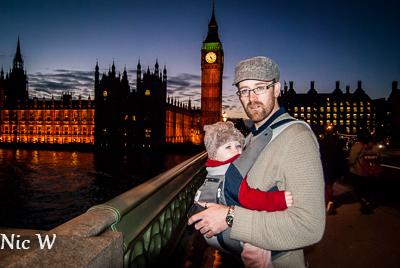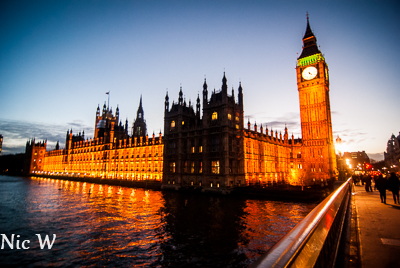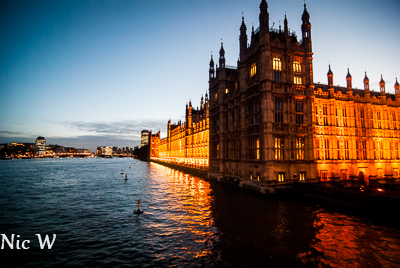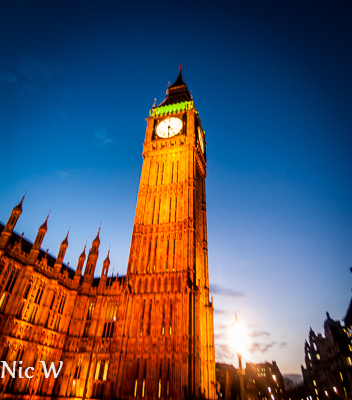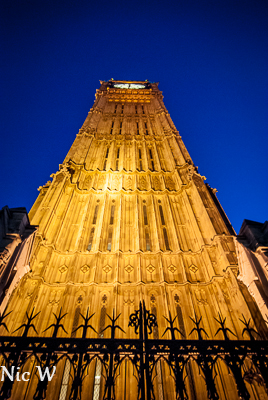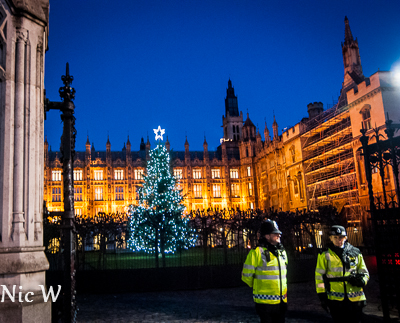 With the compulsory tourist photos in the bag we wandered off to Trafalgar square, via Westminster Abbey. As there were hundreds of red double-decker buses around Astrid was kept entertained 'spotting' them and occasionally requesting 'more'. Trafalgar square is filled with various monuments, including currently, a huge Christmas tree donated by the people of Norway for the assistance provided during the second World War. Apparently they have been doing this every since about 1947. Sadly it was a few days early for it to have been decorated, but it must be a sight when it is.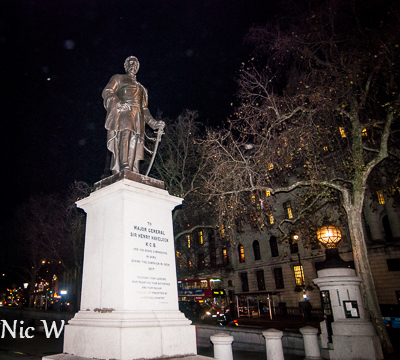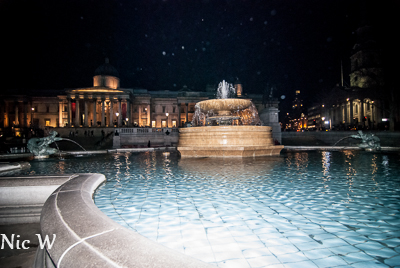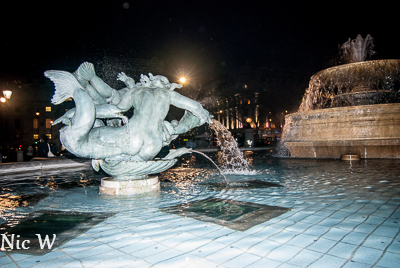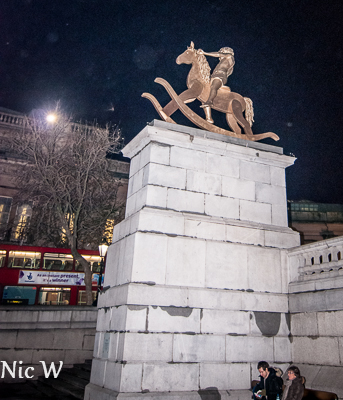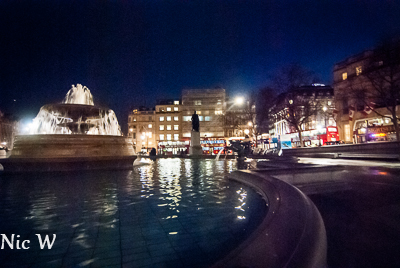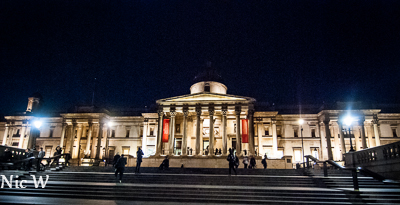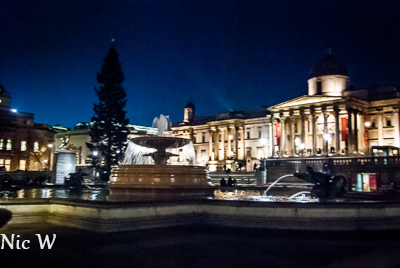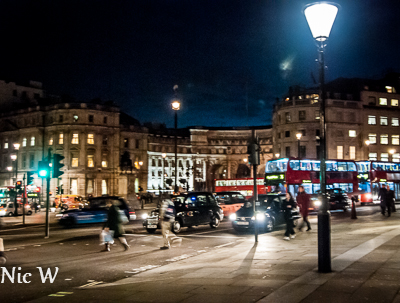 As it was getting late we headed back to our 'local' tube station Paddington with the plan to acquire some traditional English food on the way back to the hotel. The area of Kensington we were staying in, was packed full of food options – from pretty much anywhere in the world, but tonight was 'English' night so Astrid and Anto had battered cod and chips while Nic opted for what turned out to be some of the biggest (and greasiest) spring roll and curry puffs known to man. Unlike Anto's previous attempt at eating fish and chips in London (many years ago),  tonight's lot was actually edible and provided more than ample food to sustain us. With Astrid asleep and wine being consumed, plans were made for the next days activities and trains were booked for Anto's trip into the English countryside.