Our ever reliable Astrid alarm clock had us up at not much past 7am. It was still very dark out but we wandered down to breakfast and had our fill of lovely pastries, breads, jams, meats and some hot food. It was our last day of good pastries so we enjoyed them. Astrid has obviously been in Europe for too long because she started breakfast with a pain au chocolate and progressed to baguette slathered in butter, with a touch of yoghurt
for 'healthiness'. She is in for a rude shock when we get back to Australia and she has to go back to weetbix and toast and vegemite!
After breakfast, the sun was almost out and it looked a little wet but we decided to rug up and head out for some sight-seeing. Due to the weather, us feeling awful and the passport dilemma we hadn't seen a great deal of Ghent the day before. We had all morning to do some sight-seeing and we had planned a walking route that took in all the sights we wanted. Unfortunately when we got back downstairs it was now not only raining, it was hailing. Undeterred we headed out. I think we were the only tourists brave (or< stupid) enough to be venturing out early on a Sunday morning in such conditions. With a predicted temperature range of 0-5 degrees and rain forecast we had put on our warm clothes and chucked on Astrid's snowsuit, velcroed her mittens to her hands and grabbed our umbrellas. We quickly realised that the hail was in fact snow. Big chunky, cold and wet snow….. but snow nonetheless. Snow is so much better in theory than in reality it seems!
After a bit of walking around in circles to find our bearings we eventually got on track and started seeing the sights of Ghent. We hadn't had much trouble finding the Belfort tower or the Korenmarkt (main square) as they were pretty much in front of our hotel. Our original plan was to go up the Belfort tower but we ran out of time for that. Nonetheless, we enjoyed seeing it in various weather conditions as we seemed to go from sun to rain to cloud to snow to hail in the time we were walking around.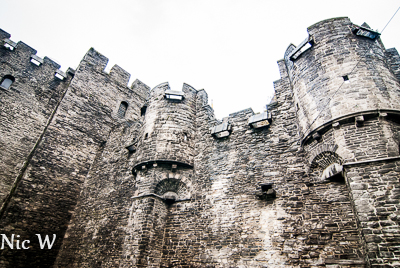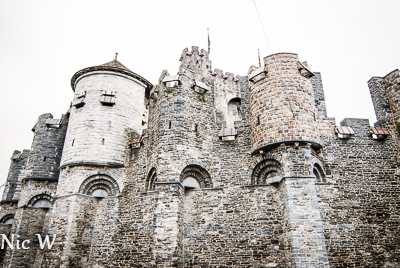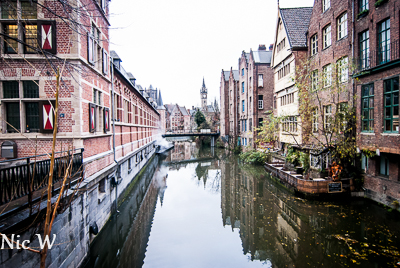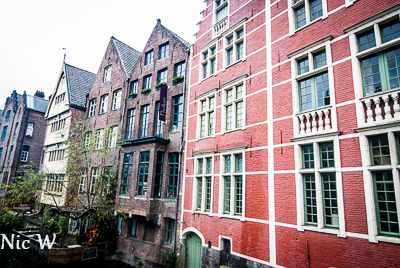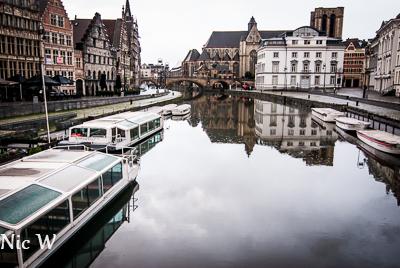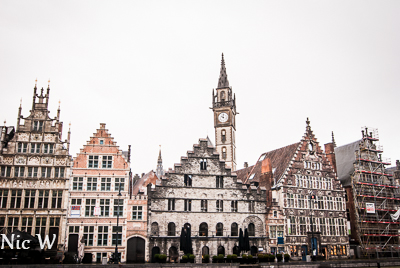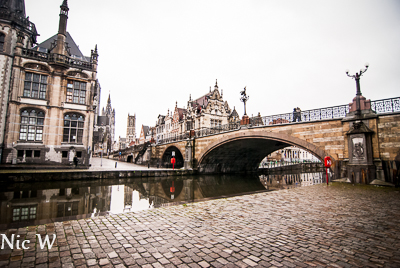 We eventually located the canals and had a walk around. We walked along the Graslei (waterfront) and looked at the Graburg bridge and past the Gaversteen castle. The bridges are very scenic and pretty and it was certainly an experience negotiating the wooden bridges that were covered in snow and salt and trying not to fall over. Tram tracks also run over them and I was repeatedly running into the middle of roads to take photos, and dodging trams. Luckily the trams are pretty obvious so they aren't hard to miss. In Bruges we found the buses and the bikes were everywhere and there was no differentiation between the footpaths and the roads in most cases. In Ghent there was a similar problem but with trams. We had less issue with bike riders but probably only because the weather was so feral.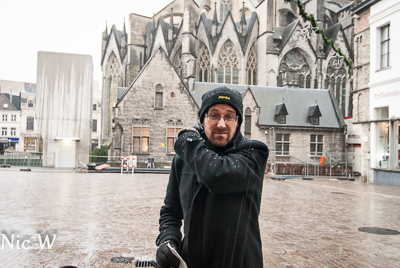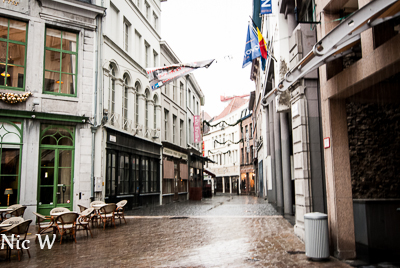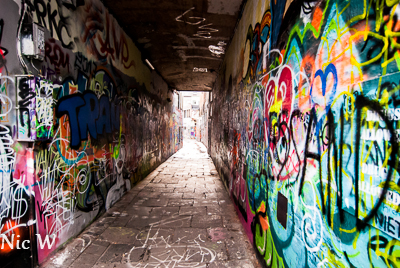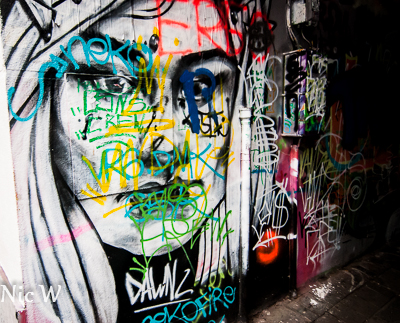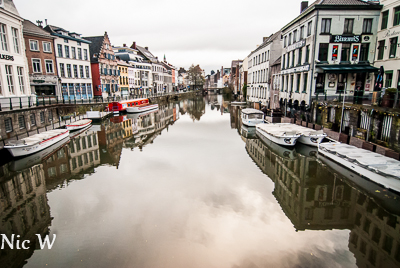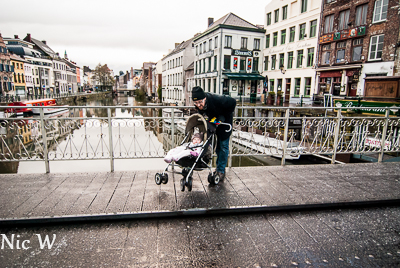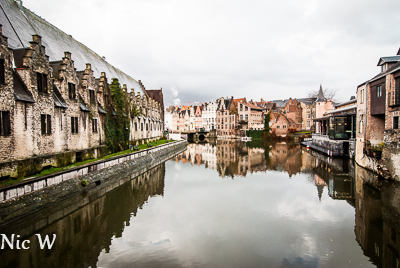 After our tour of the famous bridges, canals and churches we had been rained and snowed on repeatedly and started getting a little wet. Astrid had fallen asleep in the pram and only kept awakening when the hail or snow would come in on an angle and hit her in the face. As a result, Anto had to walk with the umbrella angled down over the pram to try and keep her dry while I walked with the other umbrella trying to keep the camera dry. Luckily there were some pretty buildings to take photos of or we would have given up and gone back to the hotel.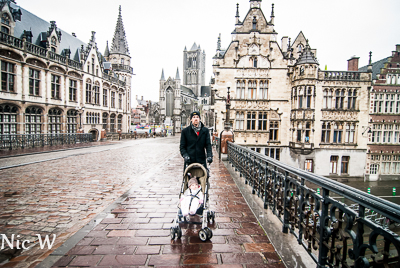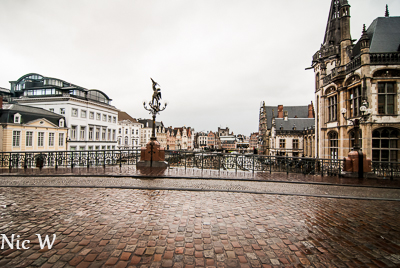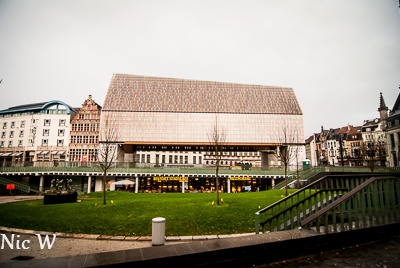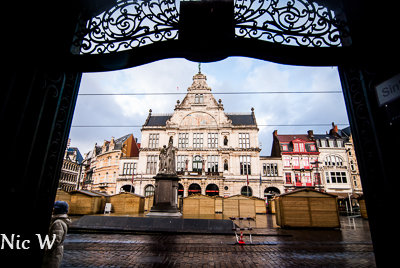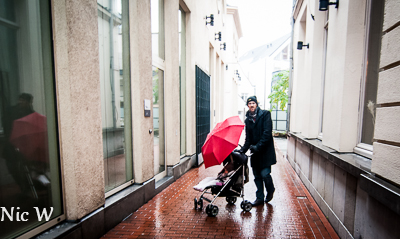 During our wanderings we scoped out the chocolate shops and potential food options for lunch. Being a Sunday most of the shops weren't open so I missed out on buying any more cute clothes for Astrid (Anto was most disappointed too, of course). We looked at more chocolate but didn't buy too much as we are pretty well covered in those stakes. That left lunch options and we decided that we all needed to finish out our time in Belgium with some waffles so we located a reasonably priced cafe, full of locals and about a minutes walk from our hotel. After a bit more walking and some sampling of local Flemish sweets being sold in the streets, Miss Astrid had awoken so we wandered back to the hotel to dry off and warm up.
We were all quite wet so a quick change of clothes and some warming up and we re- packed the bags for the umpteeth time and checked out and headed out for lunch. Since we didn't need to order sensible savoury items first today, our waffles arrived promptly. I had hot sour cherries and whipped cream and Anto went for banana, chocolate and icecream. Astrid was unsurprisingly a fan of the chocolate and icecream version but I think the cherries were the winners. Again, good waffles but the ones I had the day before might have been slightly better. We also had some nice hot coffee and hot chocolate and were all warmed up and ready to brave the 2 degrees and rain as we picked up our bags and headed back to the train station on the tram.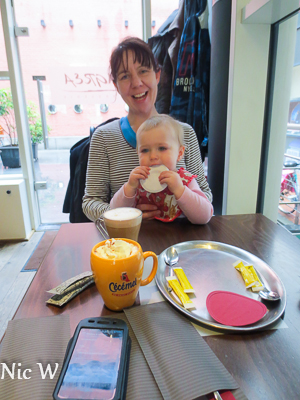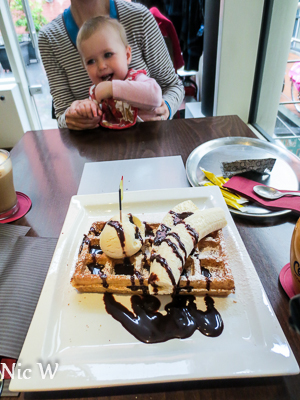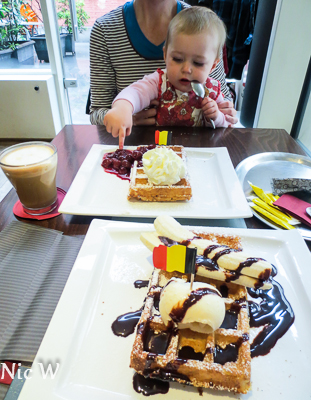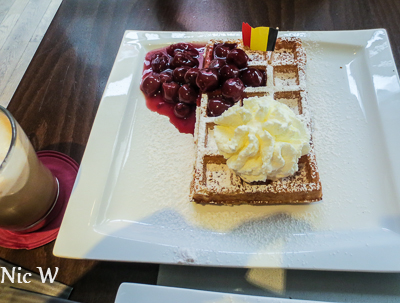 Astrid kept some locals entertained on the tram ride back. Everyone is fascinated to know that it's currently in the high 30's in Australia while it's cold and snowing in Europe. We are just thankful we weren't in Sweden this weekend as minus 10 was forecast in Stockholm. Once at the train station we got time to admire the mass of bike parking the train station offers as well as the very creative ceiling art. Quite a pretty station, although cold out on the platforms. We had elected to take the direct train through to Brussels airport, to avoid any changes rather than the more express versions that would get us there quicker but require a change at Bruxelles Midi. Given moving the bags is annoying we went for the slower but less annoying option.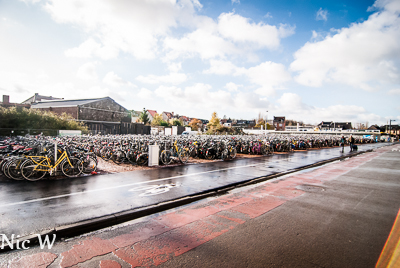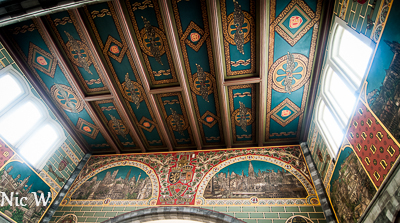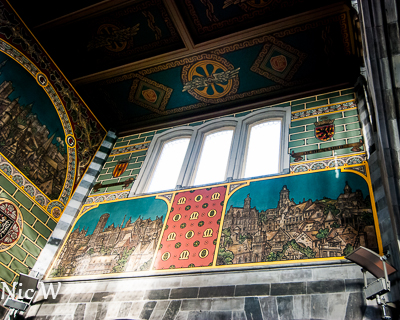 The train was fairly empty as we got on. Astrid was being a bit tired and grumpy but did manage to have a bit of a rest on me and almost go to sleep before she realised what was happening and put a stop to it. The train took us through pretty much every town between Ghent and Brussels but it was interesting to see all the different towns and the countryside in between. By the time we hit Brussels we had a pretty full train so we had to move our bags around that were taking up the equivalent of about 4 seats. We weren't the only ones with masses of luggage but we were doing a mighty good job of taking up lots of room!
We got into Brussels airport a little after 3pm and did another bag reshuffle so we could meet the baggage requirements for the flight. Luggage checked we headed out to get some drinks and managed to find the worst and most expensive hot chocolate ever. Luckily we were trying to use up Euros. Anto then used up the last few Euros on yet more chocolate. Our flight was running on time and we started boarding a bit after 4.20pm. It was a full fight and a poor gentleman had the window seat next to us and got the pleasure of listening to Astrid talk non-stop for the entire 1 hour and 40 minutes we were on the plane. She told him about his bags, that he was a man, and instructed him on the use of his tray table, including helpfully shutting it for him when she deemed he had enough food and drink. We really wish we knew what happened to the shy child, that was cute and polite in public! Luckily the flight was uneventful but with only 50 minutes in the air (it's only roughly 340km from Brussels to London) there wasn't time for a proper meal so we got a snack of chips and bikkies. We were hoping to get the tired Astrid fed on the plane but no such luck.
We only ended up going into one holding pattern coming into Heathrow, but the bonus was it was a totally clear night and you could see all the lights of London spread out below. You could easily see the Thames and the London Eye all lit up and it was a very impressive entrance to London. Apparently it was 3 degrees so no luck with us warming up just yet……..
We arrived into London just after 5pm local time (they are an hour behind Western Europe) and we headed through Immigration. Of course there was a huge line up and we were moving fast but it looked like at least 30-40 minutes to get through. Astrid was in the ergo and was intermittently flirting with other passengers and being a bit tired and grumpy. She must have started being loud as she got the attention of an Immigration
official who pulled us out of line and bumped us through the staff Immigration line. Another win for travelling with a baby. After only the 3rd or 4th questioning as to why we were travelling on emergency passports we were allowed into the UK and we headed to pick up our bags. Our stroller had actually arrived this time, although was in the middle of the floor in the baggage collection area. As a bonus our other bags were there too!
Bags collected customs was as usual a total non-event (no wonder people get a rude shock when they come to Australia), and we were on our way to our hotel. Anto had booked a room at the Sofitel which is located inside Terminal 5 (where we landed). It took us awhile to find it and quit a few lifts and a bit of walking but we didn't have to actually go outside. Great when you are tired and it's cold. It is a very posh airport hotel. Pretty new and very high tech. Our room is gorgeous. The bed and pillows are huge and fluffy and we have already enjoyed the large bath and shower and the TV speaker in the bathroom.Here are some piccies of the room, and yes that bed is enormous…..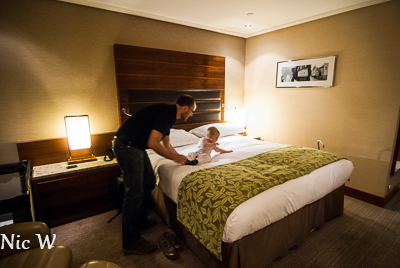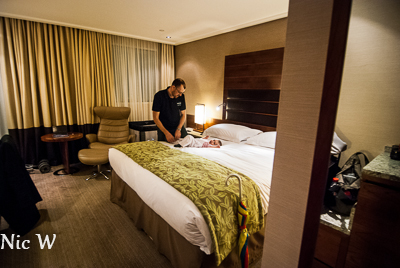 After perusal of the room service menu and deciding we weren't willing to spend that much money and not in the mood for checking out the restaurant that was open we headed back to the terminal to find some food and milk for Astrid. There were only a few options outside of security and none were that appetizing except the M&S store that did really good salads and sandwiches and other pre-packaged food. We ended up with a variety of yummy salads and sandwiches and some dessert and milk for less than the cost of a hamburger from room service. We had a picnic on the hotel room floor and after baths Astrid didn't put up too much of a fight for bed.
Tonight's blog post is being written inside our very swish hotel room, from the leather chairs (with footrest) while wearing fluffy bathrobes…… Tomorrow we are hoping for decent(ish) weather to do some London sightseeing.