Anto and I had been to Fiji before, in 2004. On that trip we stayed at Musket Cove Island Resort. It was lovely and Anto had some nice dives but we wanted to go somewhere different this time. My parents had heard about Paradise Resort on the island of Taveuni, which was supposed to be great for diving. Having done dives all over the world my Dad and Anto have high standards for diving these days but the reviews seemed good. It also had the advantage that it was a smallish resort, which we prefer to big resorts and we would be able to take Astrid. Not all dive holidays are child friendly! It also supposedly had good snorkeling for me and mum.
We actually booked this holiday a long time ago, well before we went to Europe last year. It's always good to have another holiday in the works so you have something to look forward to when you get home. We planned this holiday so that we would be back before Astrid turned 2 so that we took advantage of her flying for free still. It ended up being a couple of weeks later than originally intended as my parents had a Europe trip in April and May and had to get back from that before heading off on this trip at the start of June (oh the life!).
Taveuni is the third largest island of the Fiji group of Islands and is known as 'the Garden Island'. We had to fly into Nadi and then do a Twin Otter flight to Taveuni so it did add extra travel time, especially since we had to overnight in Nadi due to flight times and then the car transfer was quite long as the Resort is at the opposite end of the Island to the airport. Plus the roads are pretty rough!
Once we had arrived and had our welcome foot rubs and lunch we headed to our rooms. We were all staying in the Oceanfront Vales. My parents had the room next to ours and there was in interconnecting door so Astrid could 'knock knock' on it to visit Granny and Gramps at any time. The third Vale in the block was empty the whole time we were there and they were located at the end of the resort so it was relatively quiet. The whole resort only has 17 bures/vales so wasn't big or bustling. At any given time only about half the rooms were occupied so it was quiet and friendly.
Here are a few views of our room. Astrid was quite a fan of her mosquito net and called it her 'curtain' and loved having it shut for all her sleeps.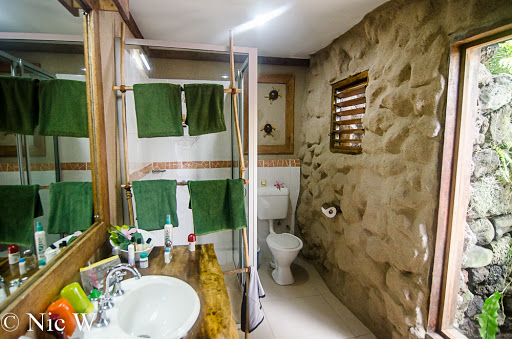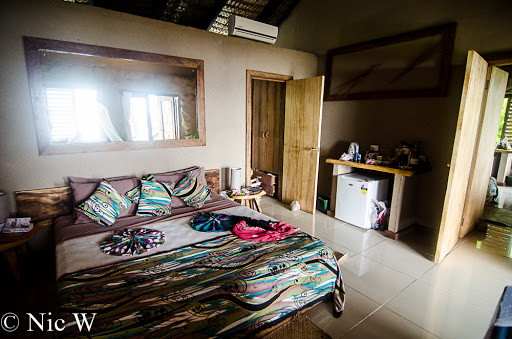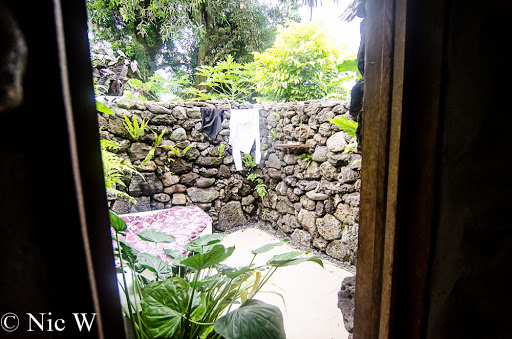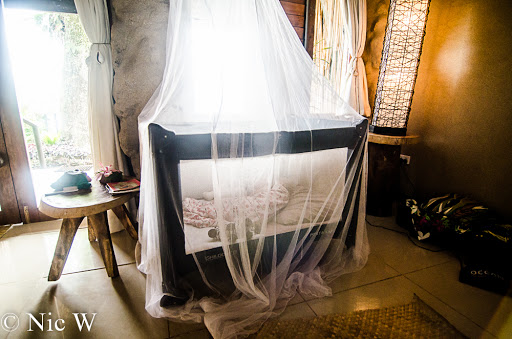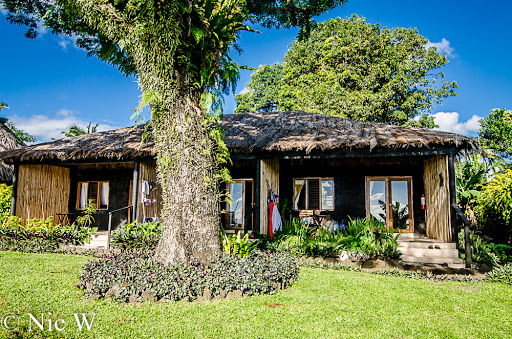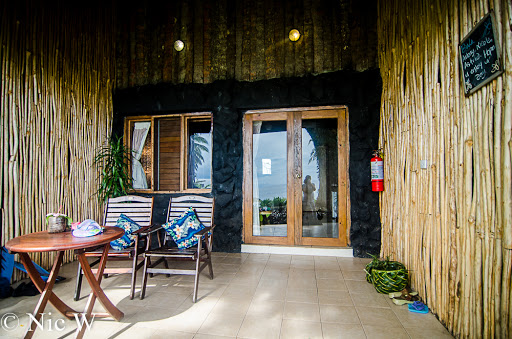 It did have an outdoor shower and spa as well as a full indoor bathroom. We didn't use the outdoor stuff much but other guests apparently loved theirs. The rooms were a good size and quite well equipped with a king sized bed, a mini fridge with tea and coffee making facilities, an air conditioner and plenty of room for Astrid's portacot. We had a lovely verandah which looked out onto the Somosomo Straits and surrounding Islands. It was lovely watching the sun go down with a few drinks every evening from our verandah.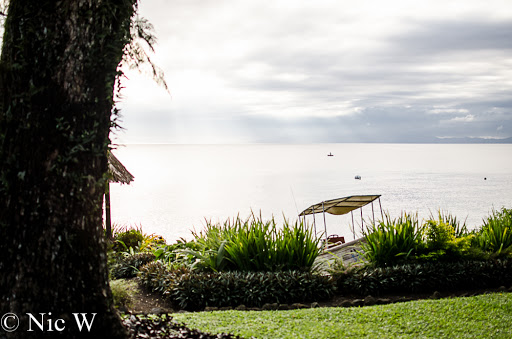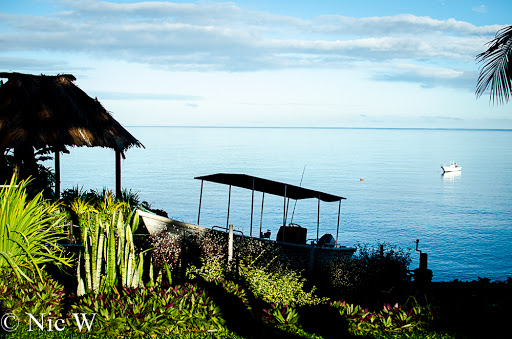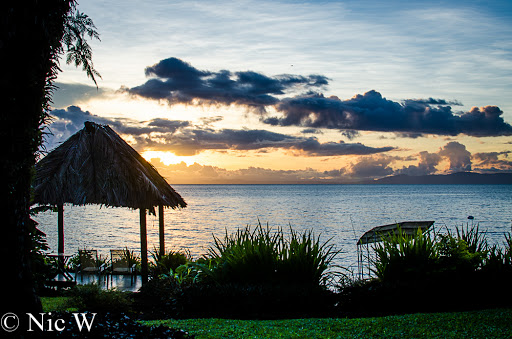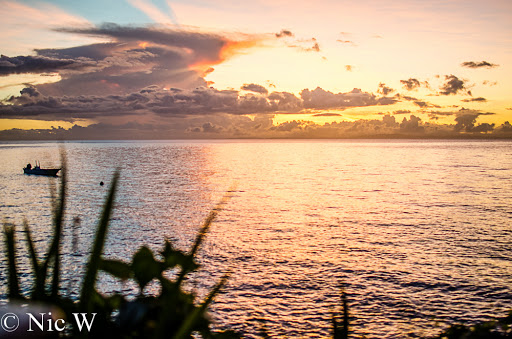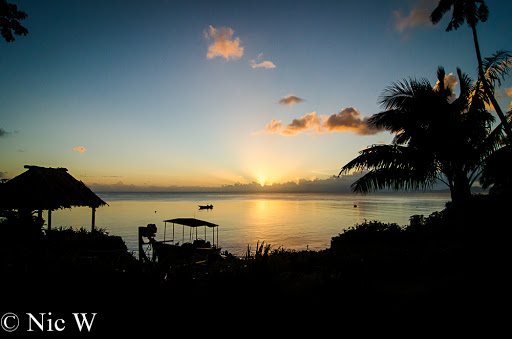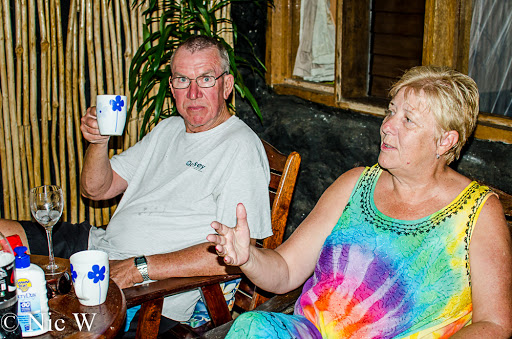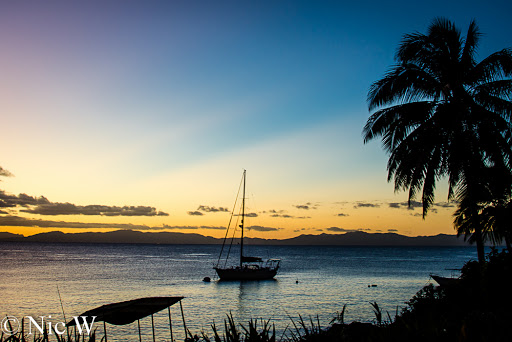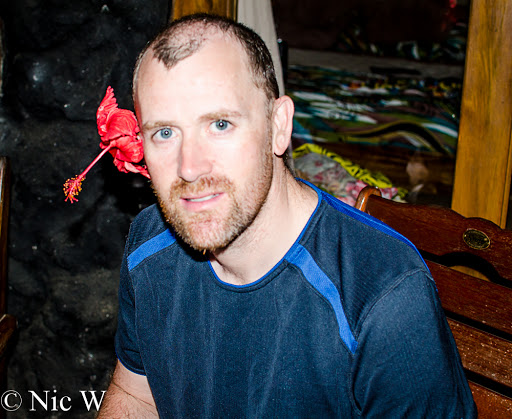 All meals were included in our stay. Given the resort is quite remote there aren't any other options as far as food goes so I'm fairly sure most packages included food. Every day we had a cooked breakfast, a cooked lunch and a 2 course dinner. There were package options to upgrade to a 2 course lunch and 4 course dinner but we found the meal sizes were quite large and we couldn't get through what we had! They had kid options for Astrid (although she actually preferred some of our food as the kids menu tended to be burger/pizza/chips type meals). At any rate she was well catered for. The vegetarian meals were a bit hit and miss. Some days I got really good options and the food was great, other days it was a bit average. The meat/seafood eaters did well though and mostly enjoyed their meals. For most meals there was a selection of several options and the food was much better than I've had at similar resorts before (in general, I had a couple of less than impressive meals but none were awful). Here are just a few shots of some of the meals, and lots of photos of Astrid eating ice cream!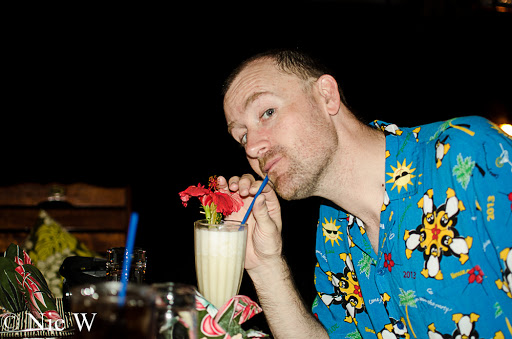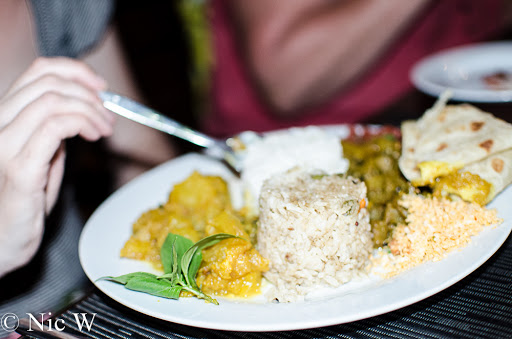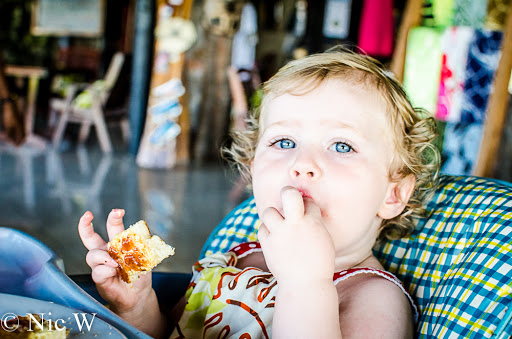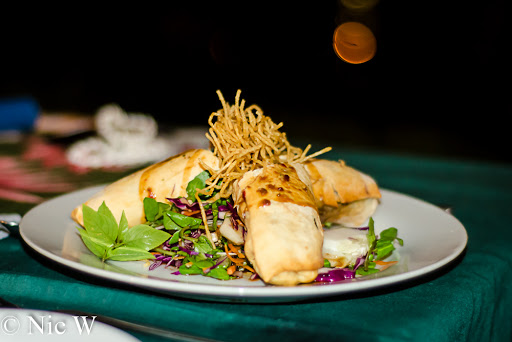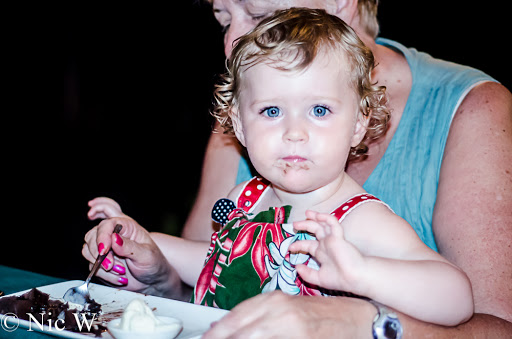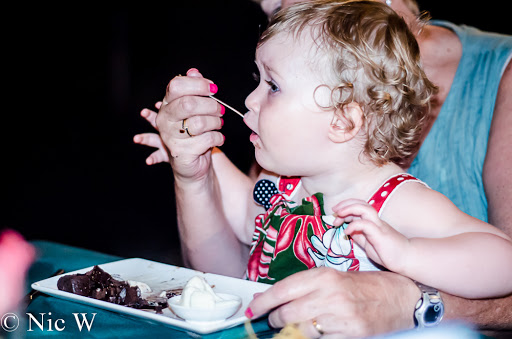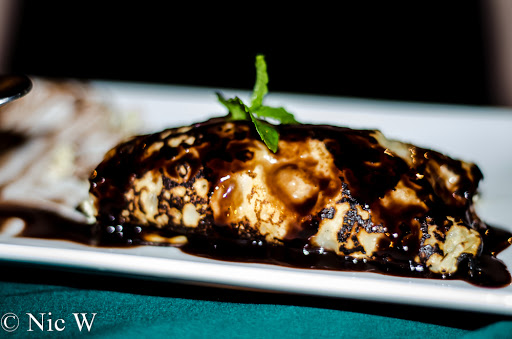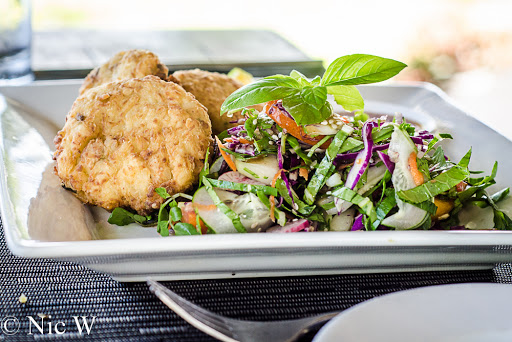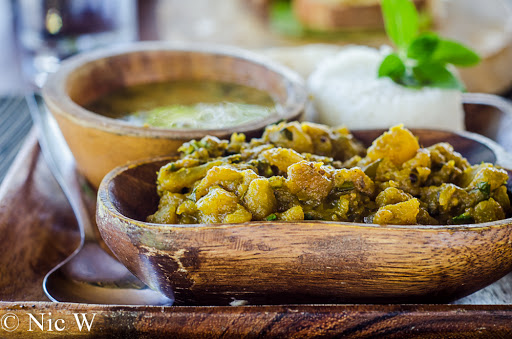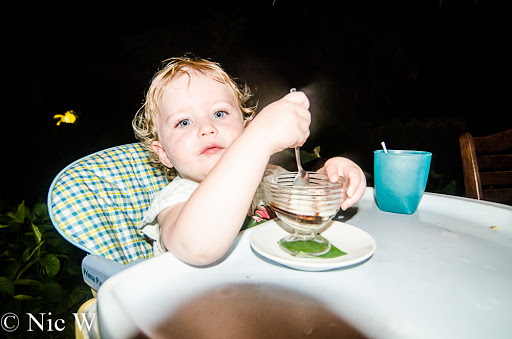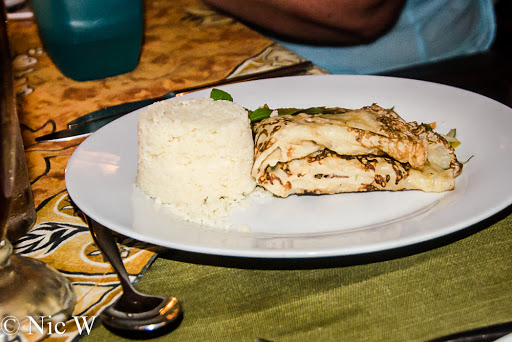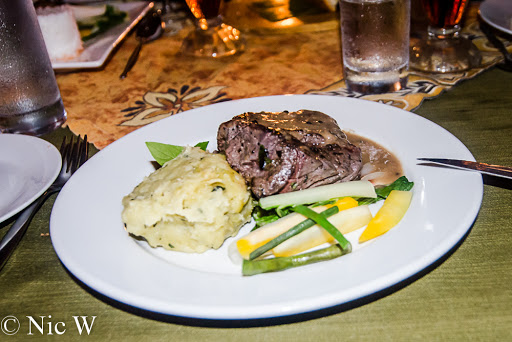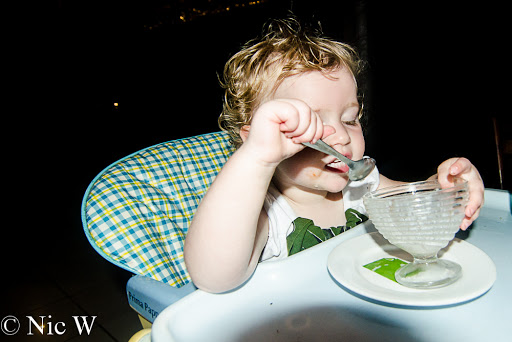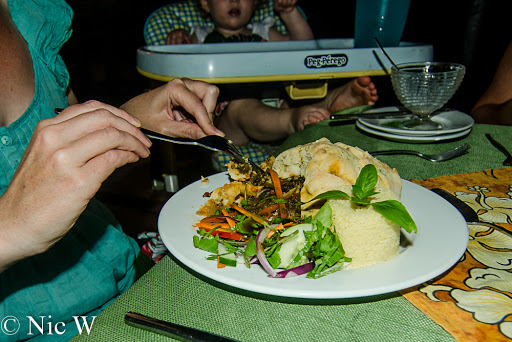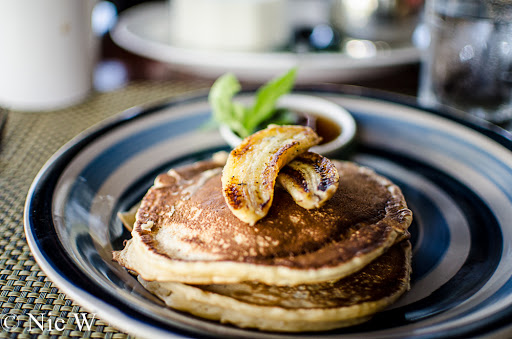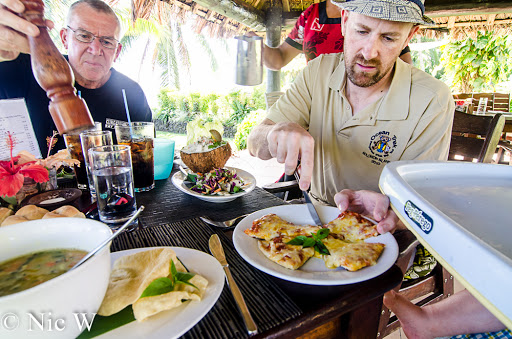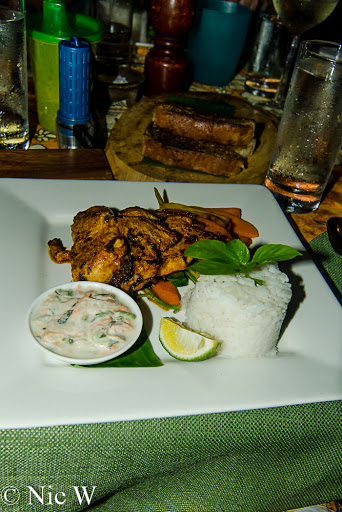 Some nights were theme nights and you ate with the other guests (although you could opt out of this if you wished). The locations varied between the open restaurant (with views over the water), the wedding bure which was very picturesque, and various other locations around the grounds in the open air. Meal times were always very pleasant and it was nice to chat with other guests at pre-dinner drinks and during meals. We also got plenty of opportunity to keep to ourselves, although all the staff fawned all over Astrid at every opportunity. It was tough life when these were the views and location as you had to eat!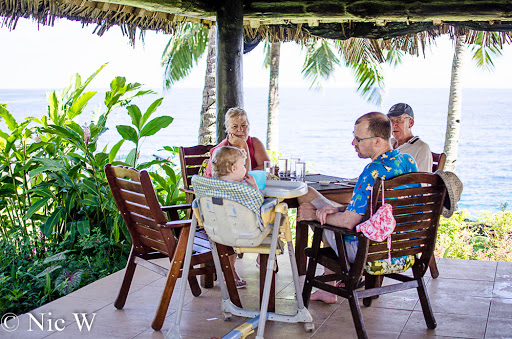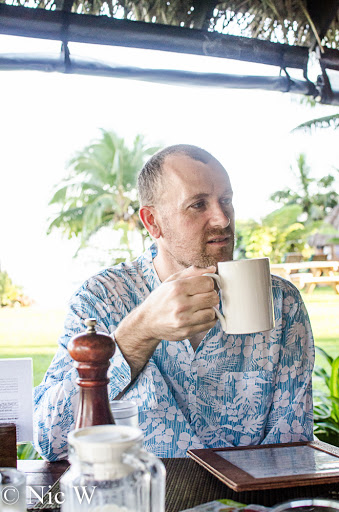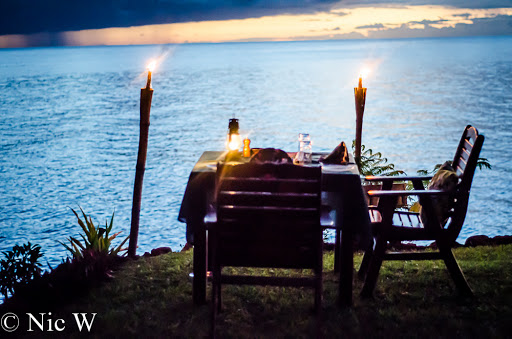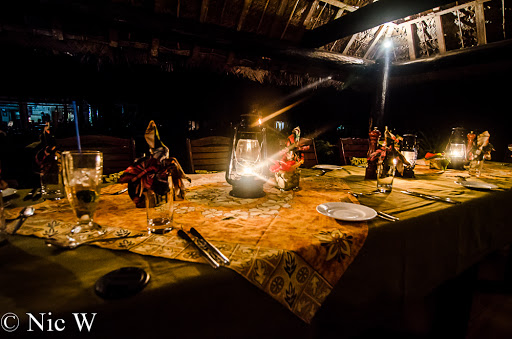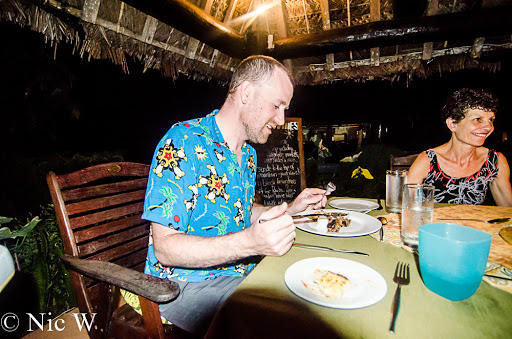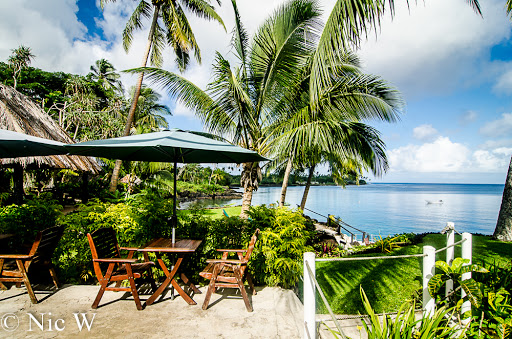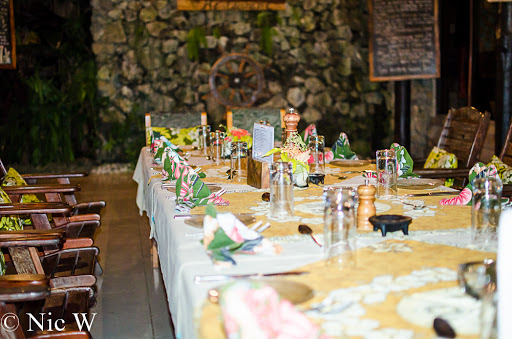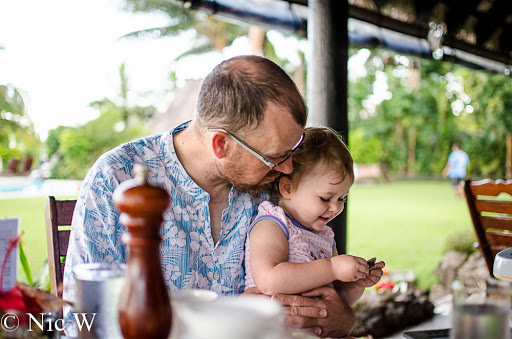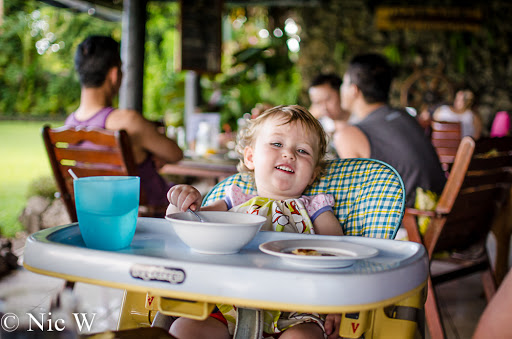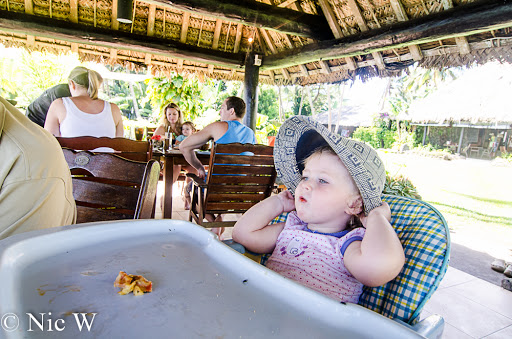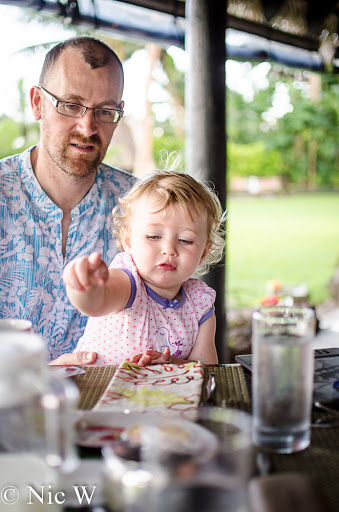 The resort is on a volcanic outcrop so there is no beach. There is direct access to the water for snorkeling and diving, down off a jetty or ladders. It wasn't too bad to get in and out of (easier at high time than low) but not great for a toddler. It was extremely scenic though and there was some nice reef around the resort.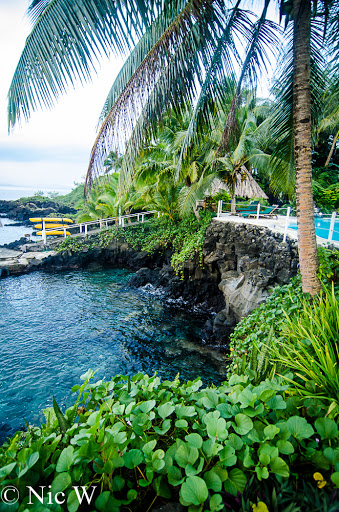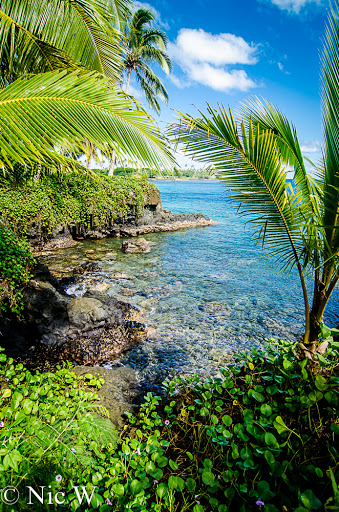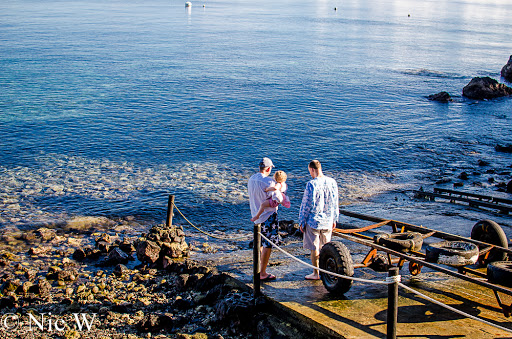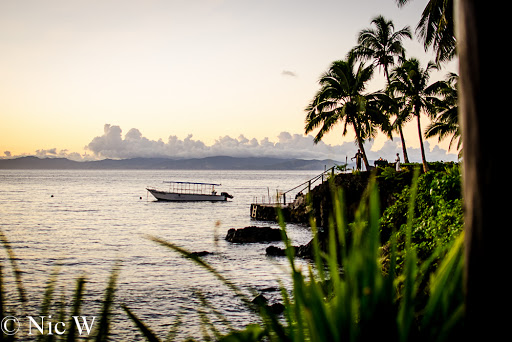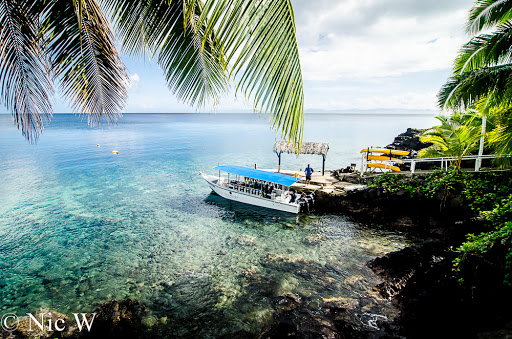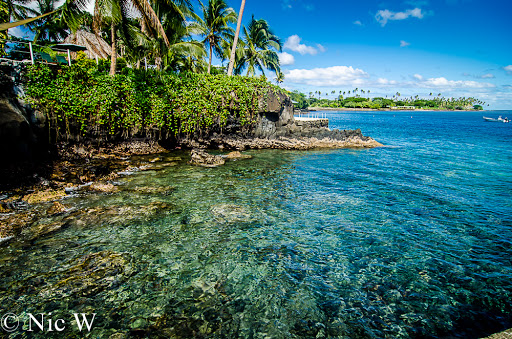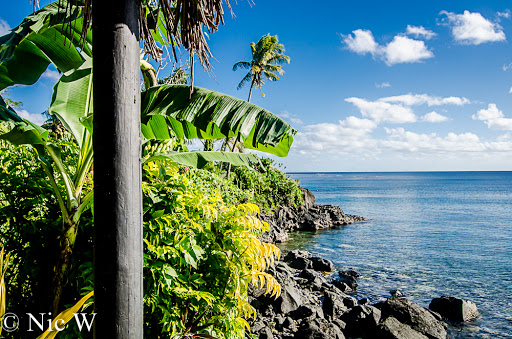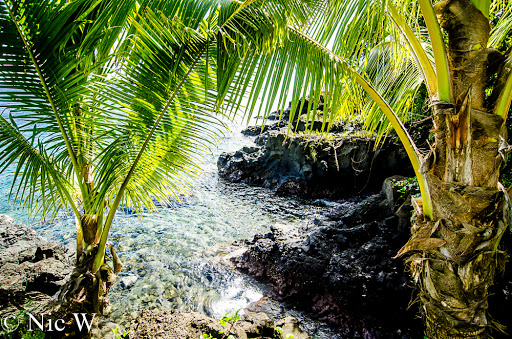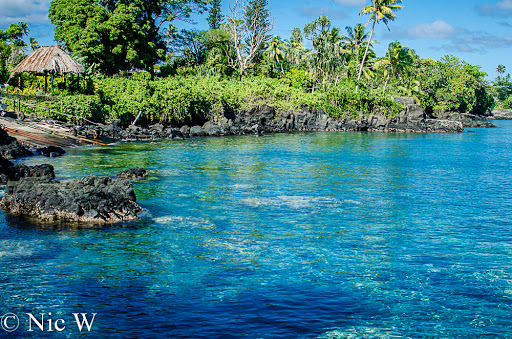 The pool was near the restaurant and was a decent size for the size of the resort and had an infinity edge and was a very pleasant place to spend the day or sunset! We mostly had it to ourselves as there were generally only 12-15 guests at the resort at any one time and many of them were out diving most of the day. Astrid certainly enjoyed her time in the pool.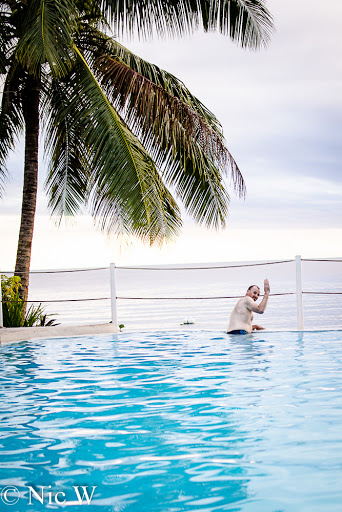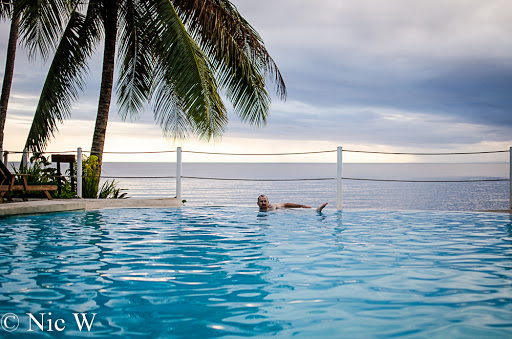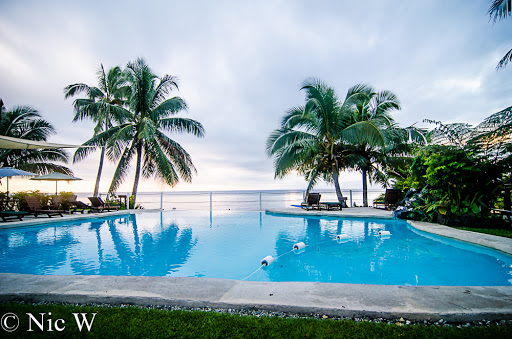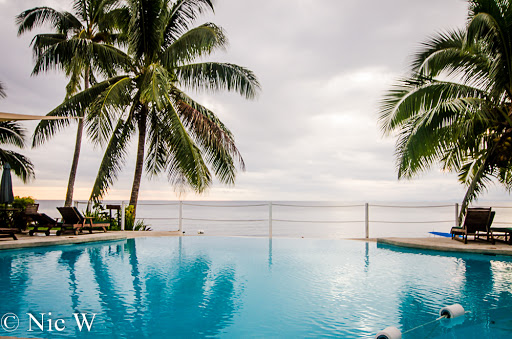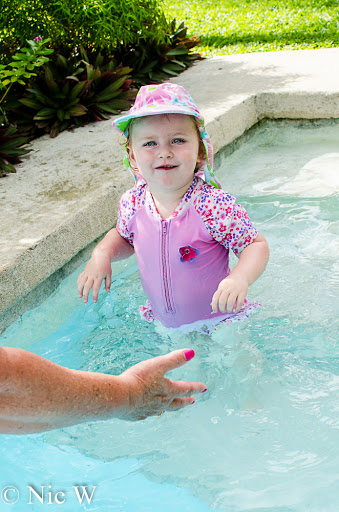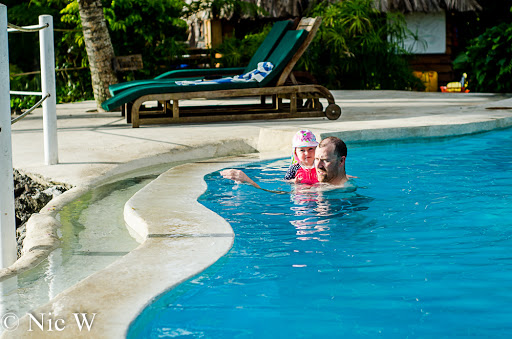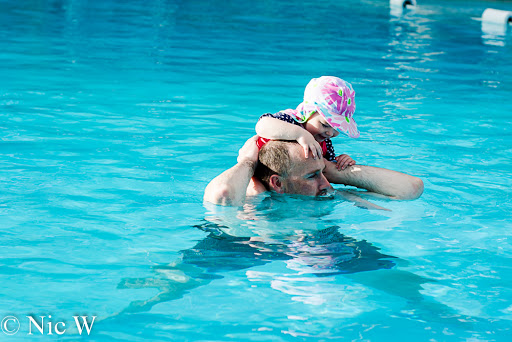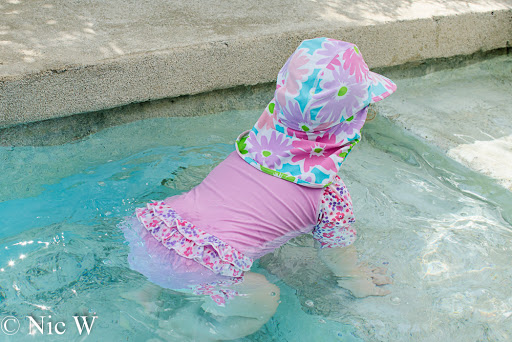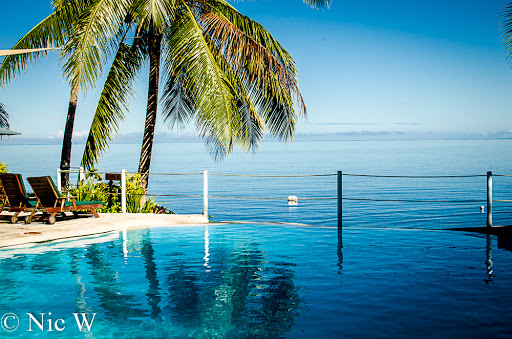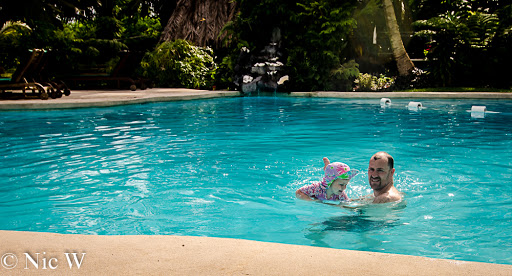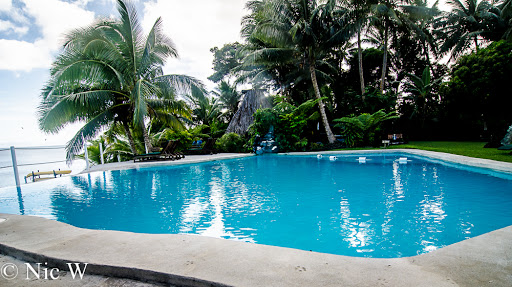 Well this post is long enough so I'll continue with more photos of the lovely resort gardens and plenty of photos of all the activities we got up to in Part 2!