So back in October, when I was very, very, pregnant we decided we might have Christmas in Queensland with my parents for something different.
We got around to booking the flights on my due date, when I was really only interested in getting the baby out and not focusing on the getting to Queensland. My lovely husband thought that since the flights were cheaper a week out from Christmas, and he had lots on at work, it would make sense for me to head up with the kids a week before Christmas and he would follow on Christmas Eve. At the time it seemed like an OK idea……… 2 months down the track though, the thought of flying with a newborn and a 2.5 year old on my own was less appealing!
Astrid has done around 34 flights in her 2 years, and I've travelled a lot with her on my own but I was not yet experienced in juggling 2 small people and a mountain of luggage by myself. Wednesday morning arrived and an excited Astrid was galloping around the house during breakfast. Despite packing pretty much everything (including all the presents and mountain of baby gear) the day before we were a bit late making it out of the house with wrangling 2 small people. We made up time on the trip to the airport but were then subject to the slowest check in process ever!
As usual, when travelling with car seats, you need to check in at the counter. It seems that a week out from Christmas everyone was travelling. Sadly, the manual check-in counter also does international check-in so it was very slow with all the families travelling and checking in baby items, and the slew of international travellers. It was rather annoying listening to people heading off to London, Madrid, Dubai, Hong Kong and Amsterdam when we were just heading to Brisbane!
Due to the delay with check-in we figured we weren't getting our airport (and probably average) coffee and by the time we got through security we saw our flight was already boarding. Cue a quick bathroom break so that I didn't have to deal with taking a 2 year old to the toilet or change a nappy mid-flight while juggling both of them. That delayed us another few minutes and we were paged to the gate. The first time I've ever been paged! Cue a harried looking mum carrying a heavy toddler and several bags while Anto dragged the grumpy infant to the gate and loaded him into the ergo for me.
After a very rushed goodbye, Anto bid Astrid and Soren farewell for a week, while he dreamt of uninterrupted sleep and a quiet house. We were pretty much the last on the plane,so got to do the walk of shame down the aisle. There were a few spare seats and all the passengers with a spare seat near them looked very nervous as I approached with an infant on my front and an extremely chatty two year old barrelling down the aisle with me. All the people with no spare seats would nod and smile, and if there was a spare seat they would desperately try to avoid eye contact and hope I kept moving! I wouldn't want to sit near me either, but the lucky winner was a poor business traveller in row 15. I apologised profusely for our mere presence but he immediately endeared himself to me by getting Astrid settled in her seat while I unloaded our bags and unstrapped Soren.
Astrid loves flying and was quite happy to chat to the hosties and our row mate. During take-off Astrid did her usual running commentary about how fast we were going and what was happening with the wheels and the flaps (she spends too much time on planes). Soren had a feed but promptly fell asleep (he had only had a short nap in the car on the way to the airport) and was the perfect sleeping angel for the first hour of the flight, reclining on my lap and being admired by all the air hosties for his tinyness and cuteness. He was by far the youngest baby on the plane and got all the attention!
The lovely gentlemen in our row helped Astrid with her ear phones and her tv screen while I was feeding and she was kept amused for the whole flight with ABC for kids and her colouring in book. When they got boring it was time for some snackage. You can't beat a biscuit and drink for amusing the toddler! She somehow scored 2 biscuits and most of them. Soren woke up after an hour and had a feed and then proceeded to grin at everyone who walked past. I was feeling a bit nervous that it might all go pear-shaped for landing given the good behaviour thus far!
The plane was full of small children and most of them seemed to spend the majority of the flight squealing and crying. My two didn't make a single squawk. Astrid chatted non-stop about how she was going to Queensland to see Granny and Gramps for Christmas and endlessly amused all people around us. Soren even made it through a very rough landing without his ears bothering him and continued to display his cute grins even through a rough landing.
The only tricky bit of the flight was getting Soren back in the ergo (the annoying infant insert slows things down) a heavy backpack on, the camera bag on and a toddler wrangled. We made it off in one piece though (with all our belongings), with Astrid running down the aisle waving goodbye to all the fellow passengers and telling them she would be back soon and to have a lovely day!
Here are some quick snaps of Astrid and Soren enjoying their flight….. Bananas in Pajamas, food and sleep (for Soren), can't get any better than that!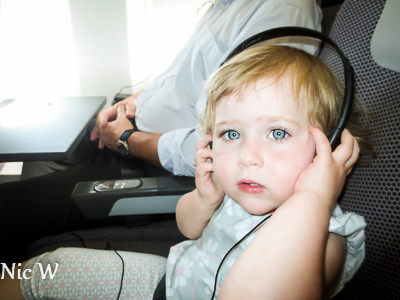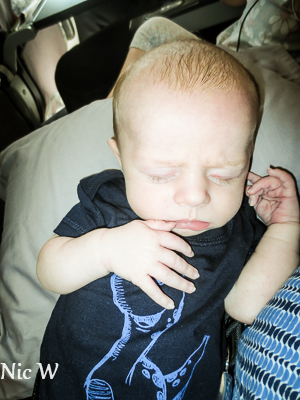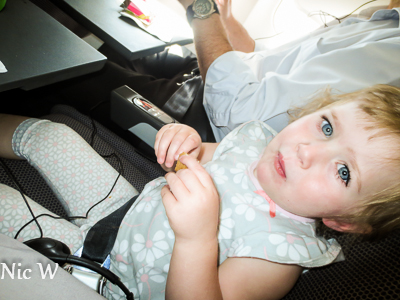 Thinking I'd gotten incredibly lucky with the children's behaviour thus far, I was a bit worried about the rest of the journey to the Sunshine Coast. Astrid was beyond excited to meet her grandparents at the gate and collect her bags. She chatted non-stop on the hour long trip to Granny and Gramps and Soren managed to fall asleep in the ergo while we were installing the car seats, got transferred to the capsule asleep and stayed asleep the whole hour car trip back.
It turns out that travelling with 2 small children and being out-numbered wasn't too bad. This time at least!
Of course now we need to convince Soren that the portacot is an acceptable short term alternative to his comfy baby hammock and both children that 4.30am is not when the day starts despite the sun being up! That is a battle for another day 🙂