We were up early and off to Gare de L'Est railway station via the metro for our train to Luxembourg. We didn't get lucky this time and Astrid woke up with our alarms so she was also up early. This was a slightly later train so the bakeries in our street were open and we managed to grab some brioche and croissant for the train journey.
Our train was on time and as we had booked this trip on our Eurail pass we were in first class, which meant big seats and lots of room to spread out. We had made a last minute decision to take an extra bag to leave at the train station so we could bring the tablet and some toys for Astrid. It turned out to be a good decision and she happily watched playschool for the entire train ride while eating chocolate brioche and croissant. Walking up and down the train pretty much everyone was watching tv on laptops or i-pads so we weren't the only ones.
The train was particularly efficient and spend most of the trip on 300km/h between stations and we reached Luxembourg in a little over 2 hours. It was looking like a nice day when we left Paris, and the forecast for Luxembourg was acceptable but when we got there it was grey and cold. Unfortunately the forecasts seem to be unreliable and we don't have many options with which days we pick to go places, so we get stuck with whatever weather we happen to get. It's a real pain when you only have one day in a city and it's awful weather.
The entire country of Luxembourg is only about 5% slightly bigger than the whole of the A.C.T and it's population about 20% bigger than Canberra. It's a little weird that it's a whole other country, but we thought it would be interesting to explore. Luxembourg city area is fairly small (about the size of Civic at home) and we were just planning to walk around it for the day. The railway station is about 2km from the main city area and in the newer part of town. Once out of the station we discovered our GPS and maps weren't working on our phones so we had to go old school and follow signs and find a tourist office!
Luxembourg city is split by the Alzette river and has a huge valley running through it. The 'Grund' is the area located at the base of the valley. The newer part of town is near the railway station and seems to be mostly office buildings and departtment stores. Being a Saturday other than chain stores, not much was open. We walked over the bridge towards the old town and the valley and river did look quite picturesque despite it being a very grey and misty morning. The trees were displaying all their Autumn colours and if the sun had of come out it would have been spectacular. We did note that we haven't had much luck with getting anything other than grey days in many of the cities we have visited.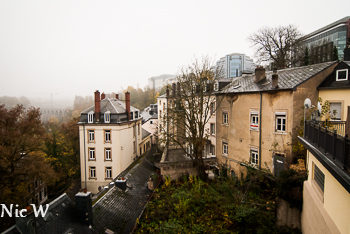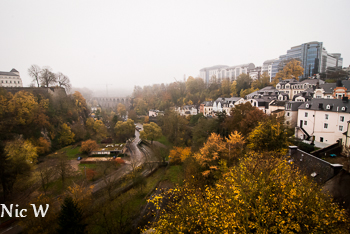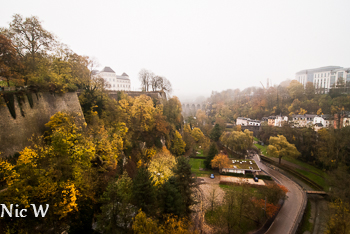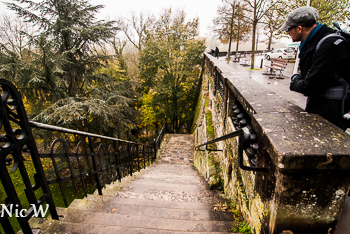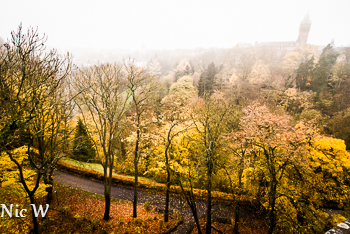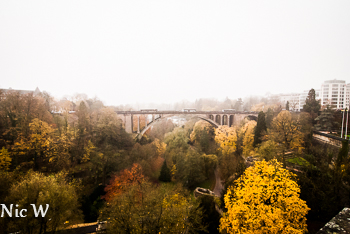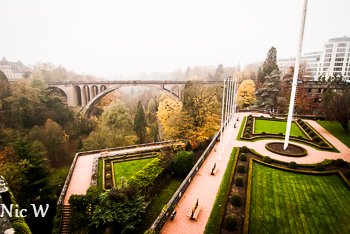 The old town was full of lovely buildings and cobbled streets. We did immediately notice that the streets are full of *very* expensive looking shops, equipped with security guards and that Luxembourg is much closer in feel to the Swiss cities than the French ones. It seemed very proper and people quite polite. It did feel a little odd though. They are officially tri-lingual with French, German and Luxembourgish (yes that is a language, apparently!) all spoken. Plus, pretty much everyone spoke English (and also Italian and Portugese are also widely spoken). The signs were all a mix of French, German and Luxembourgish and it was kind of hard to make much out because Luxembourgish is a mix of French and German words with some other stuff thrown in we couldn't make out at all. Most people asked what language we wanted when we spoke to them and it was hard to know what to use when ordering things, so we mostly just went with English. Apparently in schools they teach all three official languages plus English and you are supposed to be proficient in all to graduate.
We noted that within 5 minutes of leaving the railway station we had the first Ferrari drive past us at high speed and we frequently spotted very expensive looking cars all day long. They also LOVE their dogs. Dogs were everywhere. Big ones, small ones, and many dogs dressed up in arrays of sparkly outfits. We also saw a dog come into the lunch cafe in it's own 'wheely carrier' dressed up in a sparkly top.
We wandered around the old town and despite having read reviews of how expensive the food was in Luxembourg we were impressed to see the variety was huge, with lovely restaurants, impressive patisseries and chocolatiers. It was very similar to Paris, with slightly more German influence and bigger, cleaner more polite streets.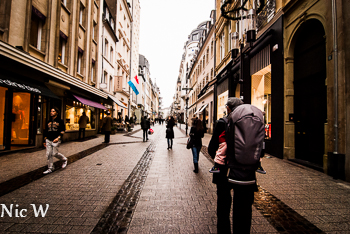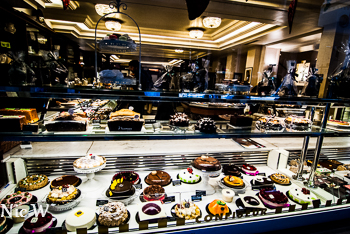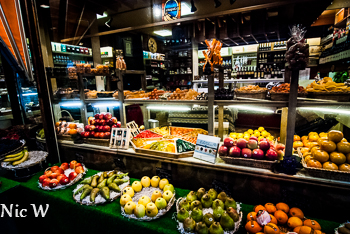 Astrid had fallen asleep in the carrier so we wandered around having a look in expensive shop windows (we were unlikely to buy much here we decided) and found some markets with delicious looking Italian food and Viennese nuts. We found the tourist office and picked up some maps. At this point Astrid was awake so we decided to grab some lunch. In the town square and streets surrounding it there was a ton of cafes, mostly French and Italian influenced. We were keen on some of the more German influenced food but it seemed very meat heavy and nothing vegetarian for me. Same with most of the French influenced cafes. It was hard to tell though as most menus didn't have English and the language mix was random so we had minimal idea what most dishes were other than picking out the odd French or German word we knew.
We eventually found what looked like a nice cafe place spread over 3 levels. It had a lots of crepes, salads, pizzas and focaccias and waffles. It was well priced and we got a whole pizza, a ciabatta and salad and a croque monsieur and 2 hot drinks for under 25 Euro. We didn't even made a dent in all the food, which was a shame since the crepes and waffles looked yum. The drinks menu was amusing. It was literally about 30 pages long and most of the drinks came with various assortments of alcohol in them. You could also get cocktails for around 6 Euro and it seemed common to drink cocktails or coffees with alcohol at lunch. We have since learnt that Luxembourg sells the most alcohol in Europe per capita. A fact reinforced when we visited supermarkets that were 30% chocolate and biscuits, 50% alcohol and 20% everything else.
After our lunch we headed out to do some sight seeing to discover it was raining. Undeterred we headed back towards the river and down the many many stairs into the valley. The steep stone walls and cobblestone paths are lovely to walk down but it was quite wet and slippery, especially as most were moss covered. We couldn't get many photos as it was raining quite heavily and we forgotten our umbrella. We wandered for about an hour and a half, along the river and back up over the bridge. Rocky cliffs surround the river on three sides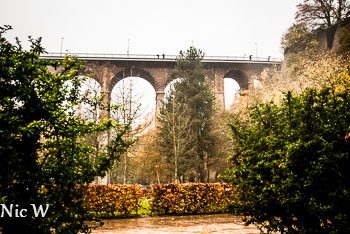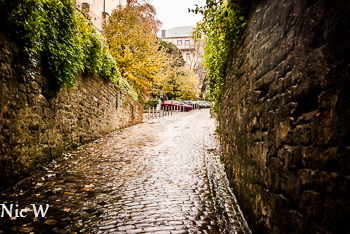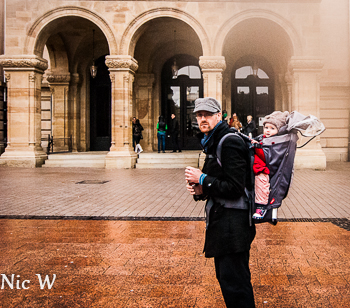 The cliffs contain the casemates which are tunnels, passages and galleries originally used for defending the Castle and moving armory. The total 23km in length but are only open until October so we missed going in them (not that I minded since I don't like small, dark spaces). You could see the barred windows from the outside in places though. We also walked through some of the UNESCO listed heritage sites and the old fortifications. If it wasn't pouring with rain and we weren't totally sogged through it would have been more pleasant.
Astrid was being good despite being wet and we thought we all needed to warm up. We found a cafe and got some hot chocolate (which was rich and delicious) and some afternoon tea pastries. We weren't the only ones huddled in a cafe trying to dry out. It enjoyed our snack and watching them bake baguettes. It was pretty similar to being in Paris except the food was cheaper and the languages weirder.
Totally sodden but wanting to do a bit more sight seeing we went out to find an umbrella. We found the ugliest Luxembourg umbrella imaginable but it was cheap. It was a complicated transaction though involving many bits of paper and waiting around for an 8 Euro umbrella. We decided that it wasn't worth seeing the Palace that the Duke lives in as the photo in the tourist brochure makes it look like most of the other buildings around. So we headed back through the valley for another walk through the cliffs and the Grund. It was raining less and we took a different path and got a few photos, although it was still grey and misty.