After a long wet day in Luxembourg we had an interesting night's sleep as one of the neighbours threw bottles into the below courtyard and expressed their frustration with life, in a loud manner (or so we assumed as much since our French is dodgy). We also woke up to find that the apartment above us is leaking water through our ceiling and all our clothes in the linen closet are wet. Not great given we already had a day of washing to catch up on and we are away all of this week so may come back to find the apartment is missing it's ceiling.
Our morning was filled with washing, cleaning and more washing. Sadly domestic chores don't end when you are on holidays and we had a heap of wet clothes from yesterday and a whole heap of packing that needed doing. Astrid happily watched TV while we washed and cleaned and then had a lovely 3.5 hour day sleep allowing us time to pack and plan itineraries for the next couple of days.
To get out of the apartment we went for an afternoon walk. We planned on walking down to one of the department stores we frequent, but being Sunday and a public holiday they weren't open. So we ended up wandering around the Marais area for a bit as things are always open there on a Sunday. Astrid wouldn't keep her hat on and the thousands of people walking slowly and getting in our way were annoying us so we headed back to the apartment and planned on an early dinner.
Despite being a very quiet day we still managed to get some food in. Anto made crepes for breakfast with fresh raspberries and caramel marscapone. Although there are perfectly good crepes available at the supermarket he made them from scratch and they were delicious. Lunch was fresh bread and the lovely French butter we have been enjoying. Astrid had hers toasted with cheese.


As we are are away most of the week we have run our fridge supplies down so figured we should go out for dinner. We headed to our favourite cafe across the road, and had an early dinner of a chicken tartine for Anto and a vegetable hot pot with quinoa for me. Astrid tried a bit of everything but ate half of Anto's chicken. Since we were feeling indulgent we also managed some dessert. I tried their Belgian waffles (just so I can compare it to the actual Belgian waffles in Belgium, we are about to try) and Anto had a caramel tart. All the food was delicious but the caramel tart was the stand out. Best caramel tart ever! Astrid was particularly fond of dessert, as you can tell by the photo of her devouring the waffle.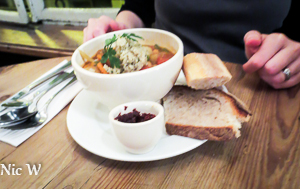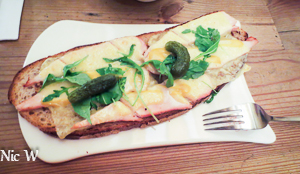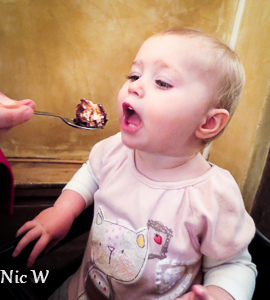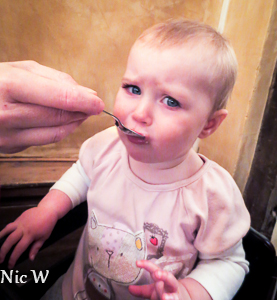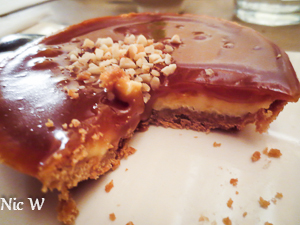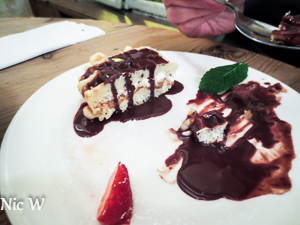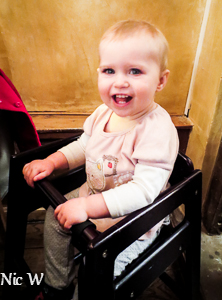 We are off to Brussels tomorrow and then the Netherlands for a couple of days. We will hopefully update the blog (wifi dependant) as we go. We are already planning all the food we might find to eat in the next few days……….