We have two alpacas, both are boys. Chimu is significantly smaller than Inti since he is a straight alpaca but Inti is a Llapaca (half alpaca, half llama). As a result, when we are out walking everyone thinks that Inti is an adult and Chimu is a baby. In fact Chimu is 10 days older than Inti!
Chimu also has the most amazing blue eyes. Blue eyes are generally bred out of alpacas as many who are born with blue eyes are blind. Chimu has perfect vision and we think his eyes are pretty amazing. So does everyone else who meets him! He is so pretty that people refer to him as 'she' all the time. Poor Inti doesn't get quite the same attention for his eyes! On the other hand Inti is more likely to shove his face into yours to say hello as he really likes attention……
This weeks photo is one I grabbed in the paddock the other day while out with Astrid and the alpacas. Check out Chimu's eyes, they really are like marbles!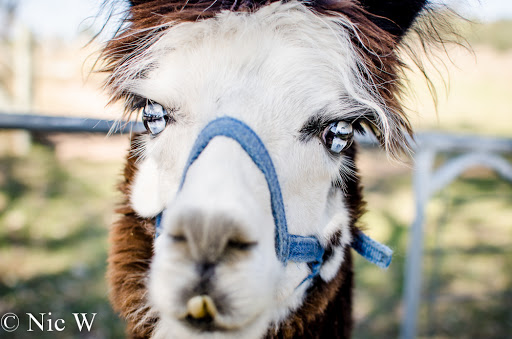 D7000 with Nikon 35mm f1.8
ISO 250, focal length 35mm
Exposure: 1/1600 @ f/3.2