When we originally planned our little overseas trip we were trying to keep things fairly flexible, so we had options, and made our life easier while travelling with a baby. Our idea was to have a base (our apartment in Paris) and do multi day International trips and single day trips within France, all while haveing time in Paris to explore, and enough time to and flexibility to allow for weather, illness and toddler tantrums. Sounds all good and easy right?
Some of our plans may have come a little unstuck. Having the apartment in Paris has been great. We have seen most of the things within Paris we really wanted to see, although we have a couple to go still we have mostly ticked our to-do list. Our Switzerland trip went well but the next month is looking a little crowded at this point.
We have all been sick on and off (or in my case continuously) since a few days before Switzerland. This has meant we have delayed some of our out of Paris trips and some of the more physical activities, like cycling around Versailles. Astrid being sick the last few days has meant we haven't wandered far from our apartment, trying to get her to rest. All of this, and the fact that we didn't take into account many tourist attractions closing or reducing hours over Winter (read from the start of November) into account, tt looks like we might not get everything done we want. Anto wanted to take Astrid to Parc Asterix, but they are closing tomorrow for the year and she just hasn't been well enough to allow a day running around a theme park. Then we have had huge issues with our train pass.
We got a Eurail pass to allow us to get train tickets more cheaply and allow us some flexibility in booking trips. Flexibility, hah! Using it is akin to trying to book flights with frequent flyer points. We booked as many of our trains as possible before leaving Australia, but bookings only open a certain time period before travel and not many seats (or any) are available on most trains. Even booking before leaving we couldn't get all the seats we wanted and have since discovered the trains to be mostly empty, which is a little frustrating.
This brings us to today. We needed to finalise a few bookings for next weeks trips so spent the morning in the apartment trying to make sure we had our trains, accommodation and activities sorted for Brussels and Amsterdam. We also needed to book some trains for later in the month when we head to Bruges and Ghent. Astrid spent the morning watching tv and driving us up the wall as we utilised the laptops and wifi to it's full advantage. It's hard to get much done with a small person wanting biscuits, playschool and attention constantly. Here is Astrid chilling with her pal Violet, watching Playschool, while dad 'researches':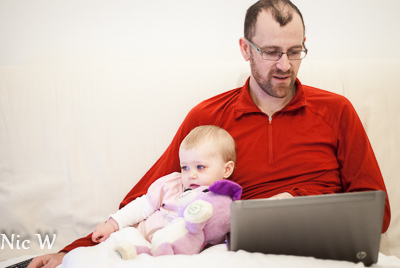 After awhile we went out for some groceries. Not such a chore when you can wander up and down your street obtaining fresh produce! Then we decided to have an early lunch at our favourite organic cafe (opposite our apartment). It's always a fun place to go as it's communal seating and you meet some interesting people. The food is always delicious. Today I had a winter vegetable tartine with goat's cheese. Anto had an apple, prosciutto and blue cheese salad and Astrid had a croissant and a copious amount of bread from the American family sitting at our table (spread with various Belgian spreads). They were all delicious and I also tried their unsweetened cardamom chai latte which was yummy!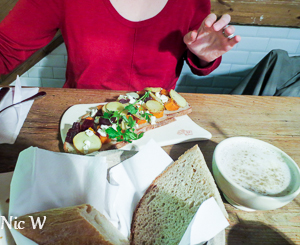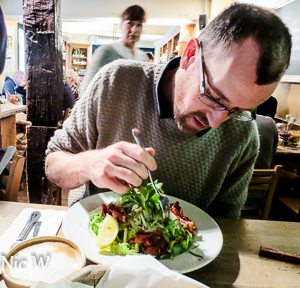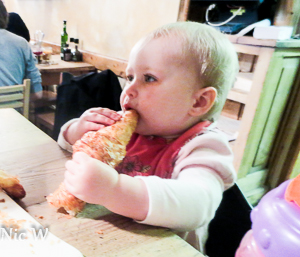 Full of lunch Astrid had a lovely long sleep while we tried to book more trains. This is where our frustration went through the roof. We have limited days left to do trips within France and we want to use up our Eurail pass days but we can't book online with the pass so we had to go to a train station to book with the Eurail pass. Even researching online we were pretty sure we couldn't get the trains we wanted on the pass.
If you aren't travelling with a child it would be easy to rock up at a train station, pick the cheapest point to point ticket and just hang around drinking coffee and killing time til your train. It doesn't work so well when you have a small person to consider. Most of our trips we are only planning one day in each location so we want an early train out and evening train back to maximise our time. We also try to pick times that don't make the day too long for Astrid, or allow her an opportunity to have a decent sleep on the train. We also ideally try to plan our activities so if we have a really long travel day we have the next day free so that she can catch up on sleep and not get too over tired.
The next month is looking very hectic with trips and our inability to book things for this week has meant we might be faced with a lot of back to back long days in the last couple of weeks before coming home. In Switzerland Astrid was really good with travelling 5 days straight but she did get a bit cranky after a few days. Some of the days we have planned for the next few days are longer travel wise than the Switzerland days so it could get ugly. If we weren't travelling with a baby we would be happy to get up at sparrows fart, snooze on a train, look at things all day and then snooze on a late train back to Paris and sleep in the next day. This does not work with a 16 month old though! She just gets overtired as she will sleep during the day but only short naps. She also will get up early the next day no matter what time you get in the day before. I guess this is why coffee was invented 🙂
Once Astrid got up from her sleep we decided to go for a bit of a walk and try and book some train tickets. We walked up to Gare Du Nord and as usual the Paris weather decided to be unpredictable and we got rained on. It was a pleasant walk and we walked through some areas we hadn't seen before. Once at the station it took us ages to find the correct ticket station. We were lucky to find an extremely helpful ticket officer who both spoke English and was happy to play peek a boo with Astrid through the glass ticket office window. She eventually managed to find us tickets on our pass for both Luxembourg this weekend and our trip to Bruges.
An another annoying fact about Eurail passes, you have to pay booking fees for each trip you book, even though the pass gives you travel on whatever trains you want for that day. The 'booking fees' vary between train companies and can get quite pricey. Today's example, the return trains to Luxembourg cost us 24 Euro in booking fees for both of us, fairly acceptable and even including the pass cost it's very good value for first class tickets on a 2.5 hour each way trip. The one way trip to Bruges was 84 Euro in booking fees for the both of us (Astrid is always free) and it's a shorter trip…….. It drives you mad!
It was now pouring so we metro'd back to the apartment for dinner and Astrid's bedtime and hit the internet into the wee hours trying to fit in a day trip for this Wednesday. On the good news front Astrid is much better and actually managed a whole day without baby panadol….. and she slept through without waking us up. In the spirit of good news here is a photo of one of the MANY lovely chocolatiers on our street: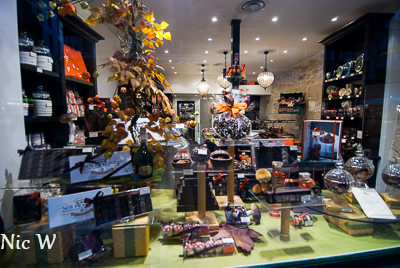 …. and Astrid enjoying her Pistachio eclair for dessert: