This photo was taken in July 2010, during our dive holiday to the Solomon Islands. The second half of the trip saw us head to Uepi Island, which required a flight on a (very) small plane, taking off from a grass runway populated by chooks, followed by a boat (read dinghy) transfer of over an hour through open ocean.
Once we arrived on Uepi Island, it was a beautiful sight….. A small tropical dive resort in the middle of nowhere. We arrived at our villa just as the sun was about to set. It was a truly beautiful sunset, and despite being in the middle of unpacking I grabbed my camera and took a couple of shots. I almost didn't bother as we were tired and hot and wanted a drink and dinner. Anto and I commented to each other, 'we are here for over a week, it'll be like this every night, right?' While we had other lovely sunsets, none were as good as that first one so I'm glad we got some nice shots of it.
This was the view from our verandah, looking out into the ocean, as the sun set. Not bad, hey?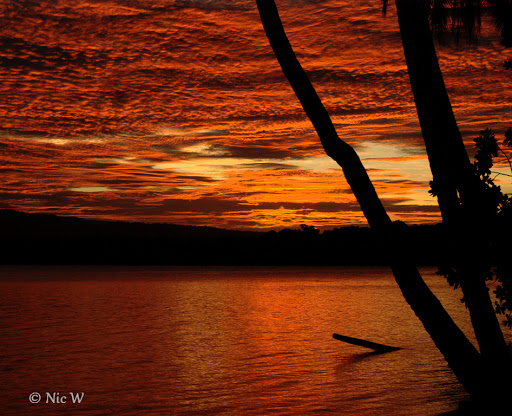 Photo details:
D80 with Nikkor 50mm f1.8
ISO 400, focal length 50mm
Exposure: 1/60 @ f/13